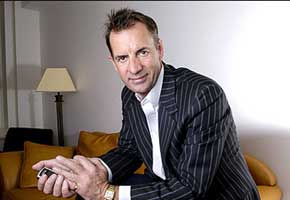 The Daily Telegraph reports that Scottish millionaire entrepreneur Duncan Bannatyne, as seen on the British TV series Dragons' Den, has hit out against a Twitter user after receiving threats against his daughter, Hollie.
Beginning on Sunday (July 31), a user by the name of Yuri Vasilyev started tweeting Bannatyne, asking for an estimated $57,000 (£35,000), or his daughter would be seriously hurt. From there, Bannatyne apparently tracked the person in question's IP address back to Moscow. And today, he presented a $40,000 (£25,000) reward via Twitter for the "capture of the coward who calls himself @YuriVasilyev_. Double if his arms are broken first." The tweet was later deleted.
"My family is well protected but I take any threat to them very seriously and will do all I can to ensure the person or people involved are caught." Bannatyne later said in a statement.
Police in Durham County are now investigating the situation, BBC News reports. However, Bannatyne remains active on Twitter, having offered nearly $49,000 (£30,000) several hours ago for any relevant details or tips that would help lead to an arrest.
Read More
Filed Under: