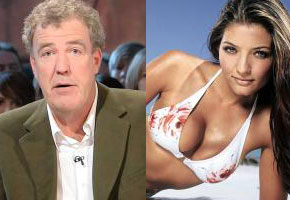 The vast majority of South African men would rather hitch a ride with Jeremy Clarkson than hit the open road with a sexy model, according to a recent survey (via IOL.co.za). Three out of four male respondents in a BP Ultimate poll selected the Top Gear co-host as the perfect driving companion over Jeannie D, You Magazine's Sexiest Woman of 2011.
Not too shocking. Clarkson is the perfect target for a motor-based man-crush: he probably knows more about cars than just about anyone – and can do crazy tricks in them. Although if you look at her photos on Facebook, Ms. D seems pretty comfortable behind the wheel of a vehicle.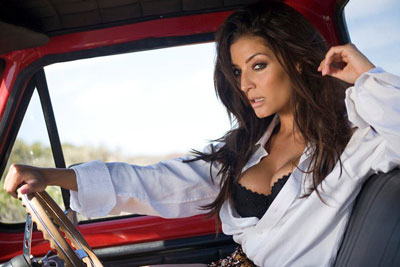 Just so you know, Ms. D is more than a model: she presents the South African news magazine Top Billing, and she did an interview earlier this year with Clarkson, Richard Hammond, and James May. The boys are definitely up to their usual tricks here, but Jeannie handles it with aplomb. 8:30 contains a moment that is classic Clarkson. Hilarious.

In other Top Gear tidbits:
• Jezza is proving popular with both sexes these days: alongside Hugh Laurie, Clarkson is one of the celebrities who best epitomizes a woman's "Ideal Man," according to a poll conducted by "mature dating site" Footloose Dating. If you combine Hugh and Clarkson, you get the world's perfect male specimen: Hugeremy Claurie. (Frost Magazine)
• Have you ranked your top 10 favorite Top Gear challenges yet? The top 40 fan picks will be counted down in a special that will air on BBC America later this year. Be sure to follow @TopGear_BBCA for chances to win cool stuff as part of the #TGTop40 Challenge.
• With Chinese and South Korean versions of Top Gear in the works – and growing speculation about other local franchises – let's have a look at a few national interpretations of the UK's leading car show, shall we?
Top Gear Australia:
http://www.youtube.com/watch?v=OBMIoVg8U-k&feature=related
Top Gear Russia:
And of course, the American Top Gear that can be seen via History Channel:
Which Top Gear franchise, beyond the UK, is your favorite?
Read More
Filed Under: