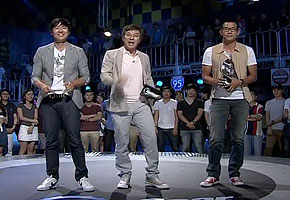 • A few Thursdays ago, we took stock of the various foreign versions of Top Gear that have launched in recent years. Well, South Korea's version of the UK hit, Top Gear Korea, premiered this past weekend, and The Wall Street Journal's Jieun Shin writes: "There wasn't much in the way of the guy-talk humor that's a trademark of the U.K. show among the Korean hosts, but the first episode had many of the core segments of the original BBC program, including celebrity racing and pithy reviews of new autos."
And apparently, word on the Web is that the Korean Stig is "overly expressive with his hand gestures compared with the British version." Hey, some of us like our Stigs flamboyant.
However, despite the cultural differences, Top Gear Korea maintains the mothership's slick production values, as you can see in the (unfortunately unsubtitled) clip below. Here the Korean hosts race an Audi R8 against a high-speed train and a plane from South Korea's capital Seoul to the Southern port city of Busan.
• This gives new meaning to the term "horsepower": an editing genius has done a video mashup of the UK Top Gear with the kiddie cartoon series, My Little Pony: Friendship Is Magic. Just in case you're curious how Clarkson would look with a purple press-and-curl:
• Don't miss Episode 2 of the new season of Top Gear, Monday, August 29 at 9/8c. Watch the trailer below. In this installment, the boys hang out with the high rollers of Monte Carlo, do laps around the Monaco Grand Prix track, and of course, get up to some mischief on the roadways.
• In a longer clip from the episode, James, Jeremy, and Richard take part in "Hatchback Challenge." Driving not particularly spacious cars, the boys embark on a scavenger hunt in which they must collect a branch from a cedar tree, a CD from a service station (that they cannot leave their car to retrieve), a dog, ice cubes, and more.
• Remember when Tom Cruise rounded a corner on two wheels while driving the Reasonably Priced Car back in Season 15? If not, a refresher:
Well, you should know that Mr. Cruise, an avid racer, is not too shabby behind the wheel of a Formula One vehicle. With 13-time Grand Prix winner David Coulthard as his instructor, the Mission: Impossible star test-drove the Red Bull Racing F1 car, completing 24 laps in seven hours. His top speed of 181 mph was just four mph shy of Coulthard's top speed. Needless to say, Coulthard was impressed with his Oscar-nominated grasshopper: "Tom's the real deal. I was surprised that he picked it up so quickly and is such an accomplished driver. His recall was incredible considering how complicated driving an F1 car is. He's a guy who really pushes the envelope in real life. This day was not green screened. He thoroughly impressed me."
Read More
Filed Under: