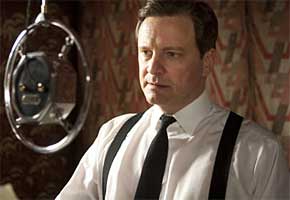 Ok, our day is officially made! Showbiz 411 reveals that David Seidler's award-winning script for The King's Speech is being prepped for the New York City stage.
Apparently, auditions are already underway with casting director Gabrielle Dawes, whose West End credits include Macbeth, Cat on a Hot Tin Roof, Three Days of Rain and Treasure Island. And while it's slated to arrive on Broadway next autumn, UK theater fans will get a taster in early 2012, as Guilford's Yvonne Arnaud Theater is reportedly planning for a "three to five week engagement in January." After that, the West End will ready for a March opening.
The British period film, starring Anglophenia favorite Colin Firth, scored four Oscars and seven BAFTAs in February. We can only imagine that the stage adaptation will also collect a string of Tonys.
What do you think about the The King's Speech heading to Broadway and the West End? Tell us here.
Read More
Filed Under: