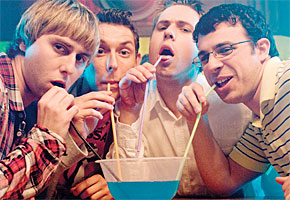 If you're used to the kind of enormous box office takings that tend to come with a massive American comedy film, or a Harry Potter, this news report may be a little underwhelming at first. Please adjust your expectations accordingly.
So, The Inbetweeners film came out over the weekend, and managed to rake in a very impressive £13.2 million ($21.5 million, or thereabouts) at the box office. Which makes it officially the best opening weekend for a British comedy. Ever.
The film beats Bridget Jones: The Edge of Reason, and Wallace and Gromit: The Curse of the Were-Rabbit into second and third places, respectively. Which leads to an interesting question. Are colons becoming unpopular in film titles now?
Inbetweeners producer Chris Young told the Independent: "We are thrilled that The Inbetweeners movie is the biggest opening of all time for a UK comedy."
Frankly, we're just thrilled that there IS an Inbetweeners movie.
Do you need reminding of what it looks like, or that it is NSFW? Thought not:
http://www.youtube.com/watch?v=aDTudLDCx5U
What's your favorite UK comedy movie? Tell us here:
Read More
Filed Under: