Good day, class. We know there are so many other study guides out there, so we appreciate that you've chosen Anglophenia's modern British history review to prepare for the new series, The Hour, premiering tonight (August 17) on BBC America.
You won't need pencils, as this is just a practice test, but you should bring all your knowledge of Britain in the 1950s.
Good luck.
1. Sir Anthony Eden, who became Prime Minister in 1955, was a member of which political party?
A. Labour
B. Conservative
C. Liberal
Correct answer: B. Anthony Eden was a Conservative, or Tory. He became Prime Minister when Winston Churchill, in failing health, resigned in April 1955. Eden quickly called an election, in which he considerably increased Conservative strength in Parliament. It was the first election in England for which recorded television coverage survives.
2.  In 1954, how many hours of television was the BBC broadcasting each day?
A.  Three hours
B.  Six hours
C.  Nine hours
Correct answer: B. The BBC was broadcasting about six hours, and most of it was live programming.
3. What's the difference between MI5 and MI6?
A. MI5's job is to protect the UK against national security threats, while MI6's job is to gather intelligence outside the UK.
B. MI5's job is to gather intelligence outside the UK, while MI6's job is to protect the UK against national security threats.
C. MI5 is a motorway that runs from Cheltenham to Exeter, while MI6 connects Coventry to Lancaster.
Correct answer: A. According to MI5's website, MI5 is tasked with "protecting the UK, its citizens and interests, at home and overseas, against threats to national security" while MI6 is responsible for "gathering intelligence outside the UK in support of the government's security, defence, foreign and economic policies."
4. Post-war rationing in Britain lasted until:
A. 1949
B. 1952
C. 1954
Correct answer: C. Rationing in Britain ended in 1954. In fact, to celebrate Queen Elizabeth's coronation in 1953, an extra pound of sugar and four ounces of margarine were added to each ration.
5. Which of the following statements about the Suez Crisis is NOT true?
A. In July 1956, Egyptian President Gamal Abdel Nasser announced that he was nationalizing and seizing control of the 103-mile Suez Canal, which had until then been controlled by an Anglo-French company. Nasser said, "England and France can choke to death on their fury."
B. In late October and early November 1956, Israeli, French and British forces invaded Egypt, while the U.S., Soviet Union and the U.N. condemned the aggression. England's Prime Minister Anthony Eden was forced to withdraw troops and resigned within months, replaced by Harold Macmillan.
C. The Suez Crisis demonstrated that England in 1956 still maintained its imperial strength, supported by united public opinion at home.
Correct (or, really, incorrect) answer: C. The Suez Crisis demonstrated that England had lost the strength of its empire. "Not only did Suez result in deep political and public division in Britain, it also caused international uproar," an Oxford University history project remarked on the fiftieth anniversary of the Crisis. "It has come to be regarded as the end of Britain's role as one of the world powers and as the beginning of the end for the British Empire. In future, British foreign policy would be conducted in concurrence with American diplomatic support."
6. Read the following quotation about 1950s Britain:
"Society then was so oppressive and so false, particularly sexually. Neighbors had this prurience and primness and this awful kind of policing of each other's lives. Nobody these days could imagine how dull things were and how respectful people were and how dead they were from the neck up."
Who said it?
A. William Golding
B. David Hare
C. Kingsley Amis
Correct answer: B. The playwright David Hare is the author of the above phrase. He was quoted by David Kynaston in the book Family Britain 1951-57. (via The Daily Mail)
7. Who called television "that tupenny Punch and Judy show"?
A. Anthony Eden
B. Queen Elizabeth II
C. Winston Churchill
Correct answer: C. Winston Churchill made the disparaging remark about TV. Churchill was famous for his use of the radio during the war and always distrusted television, saying that it had no role to play in politics. He never gave a television interview. (via The BBC)
8. What was the percentage of married women who worked in 1951 and in 1961?
A. 15% in 1951; 26% in 1961.
B. 26% in 1951; 35% in 1961.
C. 30% in 1951; 37% in 1961.
Correct answer: B. "The percentage of married women in paid employment rose steadily throughout the Fifties — from 26 per cent in 1951 to 35 per cent by 1961," writes David Kynaston in Family Britain 1951-57. But Kynaston writes extensively about the pressures exerted against working married women. One public opinion survey in 1957 reported that fewer than one-fourth of men believed that their wives should work. Many women agreed, including one quoted in a survey by a woman's magazine: "If a man cannot support a wife, he doesn't deserve one. I don't mind cooking, sewing and cleaning for him – so long as the place he asks me to do it in isn't too small – but I will not go out and work for him, too." (via The Daily Mail)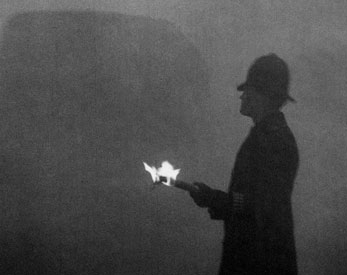 9. In the five days from December 5 to December 9, 1952, how many people are estimated to have died as a result of London's Great Smog?
A. Dozens
B. Hundreds
C. Thousands
Correct answer: C. Unusually cold and windless conditions trapped pollutants, mostly from coal, into a deadly smog that was believed at the time to have killed some 4,000 people and sickened 100,000 more. A more recent estimate increased the number of premature deaths caused by the smog to be roughly 12,000. On Dec. 7, 1954 visibility was said to be about one foot. The stagnant air was eventually blown away by fresh winds, and the disaster provided support for a clean air law, but the Great Smog itself has been largely forgotten as a major environmental catastrophe.
10. Color TV was first demonstrated in Britain in what year?
A. 1951
B. 1953
C. 1955
Correct answer: C. The BBC first unveiled color television in 1955 at the Alexandra Palace in London.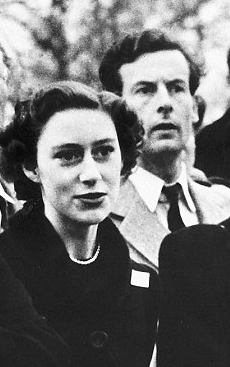 11. The divorce rate in England in the 1950s was:
A. Two divorces for every 1,000 marriages
B. Two divorces for every 100 marriages
C. Two divorces for every 10 marriages
Correct answer: A. The divorce rate was extremely low at two divorces for every 1,000 marriages, says David Kynaston. It was, he writes, "very unusual and much frowned on…Scorn was poured on well-known figures (such as the author J. B. Priestley and the comedian Max Wall) whose marriages failed." At the same time, writes Kynaston, attitudes were beginning to change: "This surfaced in 1955 with the widespread sympathy for Princess Margaret in her wish to marry a divorced man, Group Captain Peter Townsend." (via The Daily Mail)
12. What was the average yearly salary in Britain in 1950?
A. £100
B. £200
C. £300
Correct answer: A. It's hard to believe, but the average annual salary in the UK was just a little over £100. Also, the five-day work week was only instituted after the end of World War II. (via The Telegraph)
13. Read the following:
"She exuded, he wrote, 'warm, uninhibited, completely natural sex', and he predicted that this would restrict her appeal to British cinema audiences.'She puts across sex as an art, whereas for most of our girls it's a farce.'"
Who made those comments and what actress was he talking about?
A. Laurence Olivier about Marilyn Monroe
B. Dirk Bogarde about Brigitte Bardot
C. Robert Morley about Gina Lollobrigida
Correct answer: B. Dirk Bogarde, who made the comments, worked with Brigitte Bardot on the 1955 film Doctor at Sea. Again, David Kynaston comments: "Bogarde had a smoldering, ambiguous sexuality about him, in contrast to the three other most bankable British male stars of the period — Jack Hawkins, Kenneth More and Norman Wisdom." (via The Daily Mail)
——————————————-
The Hour airs Wednesdays at 10/9c beginning tonight (August 17).
——————————————-
Read More
Filed Under: