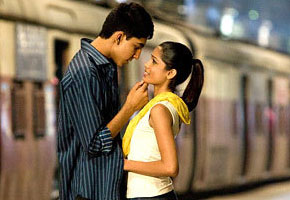 Freida Pinto — who shot to fame three years ago for her small role in the Oscar winning Slumdog Millionaire — would like to make another film with Dev Patel, her co-star from the movie and real-life romantic partner.
The actress says: "I would actually like to do a comedy with him because he's got an amazing sense of comic timing — and he's just good at his humor — and I would like to see how I would play opposite that." Pinto thinks they could draw from their own relationship if they did a comedy together: "He makes me laugh all the time, so I think it would be very easy for me and for him because he loves cracking me up."
But the actress thinks it would be difficult to top Slumdog Millionaire, directed by Danny Boyle, if she and Dev Patel were to do another screen romance: "I don't think a love story would be able to do justice to what Danny created out of Slumdog."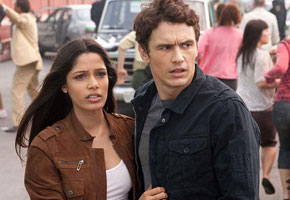 Today (Friday) marks a milestone in Pinto's career with the release of Rise of the Planet of the Apes, in which she stars opposite James Franco playing a primatologist. It's her first big budget Hollywood studio picture. It's a significant achievement for an Indian actress who was an unknown talent until she appeared in Slumdog Millionaire. In the three years since Slumdog's release she's been working virtually non-stop in six other films with some of the world's top directors.
Woody Allen cast her in You Will Meet a Tall Dark Stranger, Julian Schnabel gave her the title role in the Middle East drama Miral, and Michael Winterbottom recently shot his feature Trishna with her in India. Later this year she will appear in another big budget Hollywood film with the release of the fantasy epic Immortals, directed by Tarsem Singh.
Part of her success has been ascribed to her willingness to take on a wide range of roles. As she told me: "I want to do all kinds of films. I want to be able to mix it up. I just want to keep it real. I just want to be able to do everything."
She's also fought to get cast in films where she isn't playing the kind of stereotypical parts often offered to Indian actresses in the West. She says: "We're part of global cinema right now, and the world's too small to talk about ethnic, race-related roles. In the Woody Allen film I'm playing an Indian girl, but we're not really talking about how Indian she is. We're just talking about a girl who's pursuing a career in music."
For the Mumbai-born Pinto her blossoming career is a real success story: her profile in cinema in the West is now probably greater than any other contemporary Indian actress.
Read More
Filed Under: