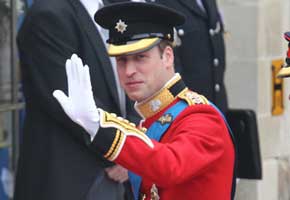 A charity that was dear to Princess Diana's heart, and is now one of Prince William's top efforts, is going through some tough times.
London's Evening Standard reports that Centrepoint staff members may soon hit the picket line over a "27 percent cut in government funding to local councils, which contract Centrepoint to run hostels for 1,300 in London and the North-East." Various individuals will not only see a significant decrease in their paychecks, but some might be without a job altogether. A reported 82 percent of employees, who belong to the Unite union, are in "favor of a strike in a consultative ballot." A second ballot vote that will likely decide the course of action will follow in the coming weeks.
William has served as a patron of Centrepoint, which assists with Britain's homeless, since 2005.
In other royal-related news:
• Rumor has it that Pippa Middleton might be one of 50,000 athletes to take to the Olympic triathlon course at London's Hyde Park this weekend. Miss Pip previously competed in the GE Blenheim Triathlon in Woodstock, Oxfordshire in June. (via The Evening Standard)
• Oh the Pippa talk doesn't stop there: Organizers behind the celebrated V Festival are looking to get Kate's younger sister to their annual two-day music extravaganza August 20 and 21, Metro reports. Some other famous Brits such as Rupert Grint, Ralf Little (The Royle Family, Two Pints of Lager and a Packet of Crisps), TV presenter Rick Edwards and radio and television personality Alex Zane would reportedly like to be introduced to the royal bridesmaid.
• When it comes to the royal family, we know that Snoop Dogg is a royal fan. He's been rappin' about William to the press for months, and now, he kind of thinks of himself as an "uncle" to future King of England. And he's hoping one of his older tunes will help set the mood for he and Kate to sire a royal heir very soon.
"Prince William is my nephew and I advise him on marriage, because I've been married 15 years to an amazing woman," Snoop Dogg told The Daily Mirror. "I'm so proud of Wills getting some hip in his dip. Having babies to my song "Sensual Seduction" is next for him and Kate. Then their kids can play with my daughter Chocolate."
Read More
Filed Under: