Prince Harry's superior officers in the Army have reportedly told him that he shouldn't count on being able to attend the Queen's Diamond Jubilee celebrations next June. Harry, a captain, is currently in training as a helicopter pilot.
"We need all the Apache helicopter pilots we have, and, with our commitments in Libya as well as Afghanistan, none of their applications for leave are set in stone any more," a source at the Ministry of Defence told the Telegraph. "The Queen's celebrations and the Olympics are obviously close to Prince Harry's heart, but he understands this is something of an occupational hazard."
Why does this story sound a bit odd? Not because Harry still has to complete his combat training, including eight weeks in the U.S. But it really only sounds plausible that he would miss his grandmother's celebration for public relations reasons, not because of national security concerns.
First, as an army spokesman pointed out, the decision about leave will be "a matter for his squadron" — a squadron to which he hasn't even been deployed yet. Second, the decision about where to deploy Harry will be made by senior Army commanders, in consultation with Prince Charles and the Queen. Third, if you'll remember, Harry was already sent to Afghanistan once but had to be taken out of the country when the international press reported he was there. So if he doesn't show up to the festivities, will his absence set off worldwide speculation about whether he's in Afghanistan, Libya or Iraq — or just sitting it out at a British army base somewhere else?
Regardless of where he's deployed, it doesn't sound as though it would be the military's most difficult logistical operation to get Harry back home for his grandma's jubilee. But perhaps the thinking is that it wouldn't look good to show one captain such favoritism in his military leave. The Telegraph claimed at the top of its report that the story itself was a "telling illustration of how the cuts to military spending are affecting all servicemen." After all, people might say Prince Harry is being treated like royalty.
In other royal-related news: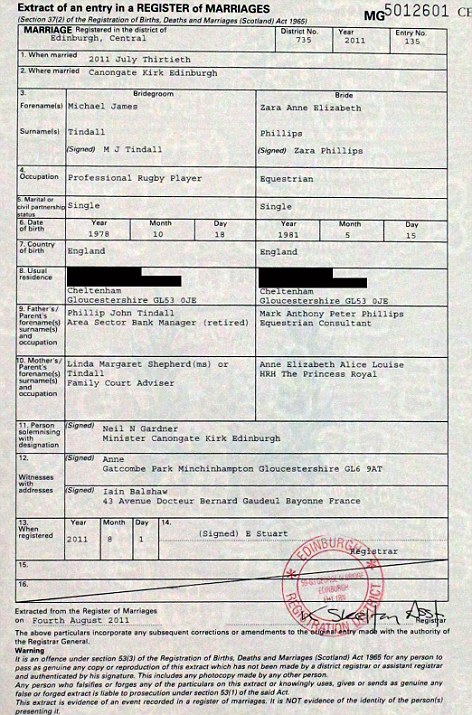 • The Mail offers a glimpse at Zara Phillips' and Mike Tindall's marriage certificate.  The paper said that Princess Anne's noted occupation on the form, "HRH The Princess Royal" was "the only clue to the bride's family connection in an otherwise very down-to-earth wedding certificate." The paper said the form represented "a breach of royal protocol" because the marriage was officially witnessed only by Zara's mother and Mike's best man and was "in stark contrast to the tone of the paperwork marking the marriage of the Duke and Duchess of Cambridge, who asked every member of their immediate families to sign the marriage register."
• There's a report that Kate and William's Kensington Palace home may not be the couple's dream house. The Daily Mail says that the royal couple has some privacy concerns. Their residence, Nottingham Cottage, can't be seen at all by the public and passers-by, but it apparently can be seen from the homes of palace staff, also in the compound. The Mail says the Duke and Duchess of Cambridge aren't considering a move, at least not right now, because the palace is only a part-time residence while William is based in North Wales.
The Mail writes that there may also be some concerns over the use of Perks Field, the big grassy area behind the palace that abuts Kensington Gardens. It's used as a playing field by royal household sports teams and local schools, and also as a landing strip for royal helicopters. A "source" cited by The Mail said there were health and safety concerns and that some of the schools might be told they need to look for other sporting fields. "As far as we are concerned, there is no change in the use of Perks Field," a Buckingham Palace spokesman told The Mail. "It continues to be used by local schools."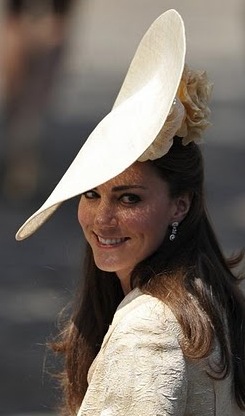 • The debate over the fascinator Kate wore to Zara Phillips' wedding continues. Warring camps faced off on the community website Gather. One poster wrote approvingly of Disney TV star Selena Gomez's decision to wear a fascinator when she performed at the Teen Choice Awards. "Almost everyone is just infatuated with Kate Middleton so it really isn't surprising that Gomez took a piece of princess with her on stage!" she exclaimed. "Looking stunning per usual, Gomez rocked the stage, fascinator and all…Kate Middleton would have loved it!"
On the other side, another member called Kate's fascinator a "strikeout," claiming it looked like a big potato chip: "Or to make things simpler, the hat looked like a Pringle," she wrote. "Pringle is a better description, anyway, because, while potato chips vary in shape, all Pringles look alike, and both Brits and Americans eat them. And that's what Kate Middleton's hat resembled."
• The Chattanooga Times Free Press reports that sales of sheer stockings are soaring because of Kate Middleton. Angela Hawkins, the general manager of hosiery brands for Hanes and L'eggs, says sales of nude-colored legwear has gone up 85 percent in the UK. "We frequently see trends emanating from Europe and this should be no different," she said, predicting the trend will be rolled out on American legs. "We'll see where the royal road takes us."
• So far, Kate hasn't selected her own personal stylist. Her ultra-fashionable step-sister-in-law says she should go it alone. "There's absolutely no way that she needs a stylist, it's ridiculous for anyone to suggest it," says Sara Buys, the wife of Tom Parker Bowles. "Kate is naturally a very stylish woman. She did so well in North America flying the flag for British fashion. She's made some great choices and I know designers are honored when she wears their pieces." Buys is widely believed to have been the person responsible for getting Kate to choose Alexander McQueen protégé Sara Burton to design her wedding dress. Buys' own wedding dress, which she wore when she married the Duchess of Cornwall's son, was also designed by Burton. (via The Telegraph)
• On the other hand, fashion legend Vivienne Westwood who, as the Huffington Post writes, "hasn't been aboard the Kate Middleton train for some time now," made some comments to The Sunday Times that indicate she's not likely to be riding that train anytime soon. "It seems to me that her image is 'ordinary woman.' Therefore, high-street shopper," Westwood said. "And I just think she should be an extraordinary woman, wherever she gets her clothes from." But Westwood's strongest comments were aimed at Kate's makeup: "I think she's got a problem with eye make-up! The sharp line around her eyes makes her look hard. Either she should be smudgy or wear none."
Read More
Filed Under: