Interrupting their summer vacation in Scotland, Prince Charles and Camilla, Duchess of Cornwall visited some of the areas hit hardest by last week's rioting.
The couple began their tour in North London, in Tottenham and Hackney, and then went south to Lambeth and Croydon. They visited businesses and homes destroyed in the unrest, heard the views of residents and emergency workers and shared their own thoughts about how to prevent violence in the future.
The Prince spoke about combating gangs by offering positive alternatives, a long-term interest of his.
"Joining gangs is a cry for help," he said. "We've been tackling the symptoms not the root cause."
The Prince said violence will be the inevitable result "if you feel you have no sense of belonging or meaning." He said that schools need to do more, especially with extra-curricular activities. "Young people need self-confidence, we have to motivate and encourage them and give them responsibility," he said.
Camilla added: "It is absolutely terrible. We were watching it on television as it happened and I had to pinch myself to believe what was happening. I just couldn't believe my eyes. It was so senseless. I could not believe it was happening in this country."
The Prince's Trust charity announced plans to double its donations to young people to £2.5 million ($4,130,000).
The royal couple appeared to be greeted with support and approval from onlookers and people they met with, including, at one point, a rap musician, who offered the Prince a copy of a song he wrote. Here's a full report on the day from ITV:
In other royal related news:
• Princess Anne will be presenting the winner's trophy at the 50th anniversary of the Burghley Horse Trials on September 4. Her daughter, Zara Phillips, who was a Burghley runner-up in 2003, will be a competitor again this year. Princess Anne herself won the race in 1971. (via The Stamford Mercury)
• Speaking of horses, Zara Phillips says racing isn't all glamour.
"I don't have to sit in an office and do paperwork. But do I enjoy it in January? No, I don't. I really don't, actually," she told The Times. "When you're in a competition with five horses and it's peeing with rain and there's mud everywhere, and we're all riding round, we're going, 'What are we doing?'"
Still, she's hoping to ride in the 2012 London Olympics. She was forced to drop out of the 2008 Olympics after her horse was injured.
In the same interview, she also revealed that, for her recent wedding, her "something blue" requirement was met by painting her toenails blue. (via The Telegraph)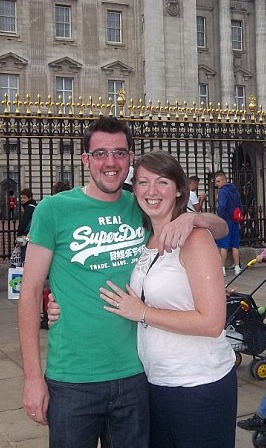 • April's royal wedding is inspiring copycats. In the last week alone, there have been two proposals during tours of royal residences. One Derbyshire couple got engaged at Buckingham Palace during a visit to the exhibition devoted to the royal wedding. Though 26-year-old Dean Nicholls made the proposal on his knee, it was his girlfriend, Lauren Green, who had actually bought the tickets – as a gift.
'But we'll have to go down and do the tour again," said Nicholls, "because I can't remember anything about it as I was so nervous.'
Meanwhile, at Windsor Castle, on top of the newly-opened round tower, another couple got engaged. Not much is known about them, other than that they are being called "Brad" and "Natalie" and that they are believed to be from Australia. Brad apparently fell to his knees in the pouring rain. And it turns out that the tour guide almost put an end to the plan, when she started to tell Brad to move for standing in the wrong place. "But when she realised he had a ring in his hand she gave a squeal and stood back," the couple told The Daily Mail.
Read More
Filed Under: