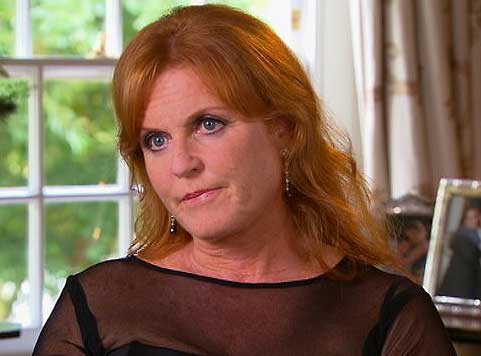 Sarah Ferguson got up and left in the middle of an interview with an Australian news program, apparently feeling that she'd been sandbagged when she was shown footage of the cash-for-access sting that the News of the World perpetrated on her last year.
The Duchess's Australian manager told the Sydney Daily Telegraph: "She did walk out when she was ambushed – no, it was entrapment – but after cooling down she said to me, '**** them, let's do this', and she did, but it was a banal interview and her demeanor reflected that."
Meanwhile, Australia's Nine Network is heavily promoting the segment, set to air Sunday on the network's 60 Minutes program, as "the weirdest interview you'll ever see." In the promo, you can clearly hear Ferguson demanding the program to "delete that bit."
Writing on the show's blog, correspondent Michael Usher, who conducted the interview, noted that he had been reporting a story "in the icy winds of the Arctic" when he received word that he was to do the interview. "But these frigid latitudes had nothing on the iciness I would experience just a few days later," he wrote of his experience with Ferguson.
"The Duchess knew in advance from her advisers that we'd first be talking about the newspaper sting that landed her in so much trouble last year," writes Usher. "Before we began the interview, I asked if she'd be prepared to watch that vision recorded by the now defunct News of the World. She declined, quite understandably."
But he says that from then on, the Duchess was suspicious and "she grew increasingly uncomfortable."
"It all went a bit south after that," he writes. "It was shame, really, and I made that clear to her after the interview." (via The Telegraph)
In other royal related news:
• American actress Anne Hathaway may have spoofed The Duchess of Cambridge during an episode of Saturday Night Live last season, but she absolutely adores her keen fashion sense. "Can I tell you how grateful I am to Kate Middleton?" Hathaway tells USA Today. "Because she is such an advocate for dressing like a lady. I think for a few years that kind of slightly dirty look was adopted by Hollywood – you know, the stringy hair, homeless thing. And I really tried. I was like ok I'm going to give that a go. (But) it doesn't suit me, I don't suit it. I always looked kind of chubby."
• Photographer Hugh Burnard has been a long favorite of the royal family. He captured Prince Charles's wedding to Camilla, and he of course, photographed Prince William and Kate on their big day in April. But recently, he switched his attention to Mickey and Minnie Mouse, as he's now the "photographer in residence at Disneyland Paris," Metro reports. He's taking part in their Magic Moments festival, which closes on Monday (August 15).
• Both Princess Anne and her daughter Zara Phillips were on the Isle of Wight this week for nautical events. Newlywed Zara joined yachtswoman Dee Cafari in her attempt to win the pro-celebrity Artemis Challenge, an 80-kilometer (50-mile) boat race around the island. Also on board was BBC presenter Natalie Pinkham. One of the sails on their boat ripped, and Zara's team came in fourth. The boat carrying Ewan McGregor came in third. Take a look:
Meanwhile, Zara's mum oversaw youth boat races and officially opened a station of the Royal National Lifeboat Institution. (via Practical Boat Owner)
• Italy's Grazia magazine has confessed to little tweaking on their May 2011 cover celebrating England's royal wedding. As some of you might recall, Kate looked disarmingly thin and the magazine vehemently denied altering the image of a newly wedded Kate in her Sarah Burton-designed gown. Well, the Press Complaints Commission got in on it. "The magazine explained how the image had been altered to remove the arm of Prince William so that the duchess could be featured on the cover alone," they said in a statement. "This involved mirroring one of the duchess's arms and an inadvertent result of the change was the slimming of her waist." (The Daily Telegraph)
Read More
Filed Under: