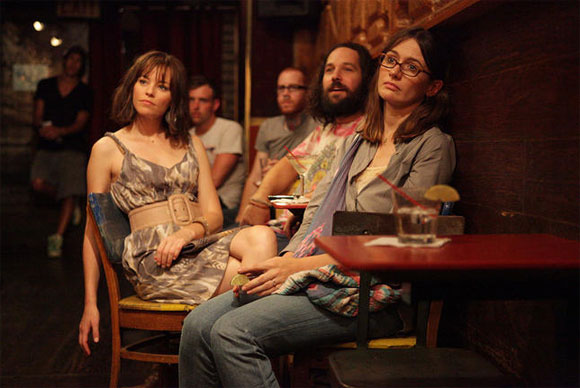 It's a small role, but Brit actress Emily Mortimer shines in the ensemble comedy Our Idiot Brother out today (August 26). She plays a neurotic Brooklyn wife and mother who can't see what's happening in front of her nose — and that includes her husband having an adulterous affair.
When asked about her character Mortimer says: "She doesn't easily see the bigger picture because she's slightly terrified by her husband (played by Steve Coogan). They are a couple of politically correct people, who eat the right things and think the right things, but they're both deeply miserable."
It's a good role for the actress who plays one of three sisters whose lives are upended when they each allow their "idiot" wayward brother Ned, played by Paul Rudd, to stay with them after serving a prison term for selling pot to a police officer.
Mortimer views Ned as a man who "creates chaos, turns things upside down by insisting on seeing things as they really are – and in the end he saves us all."
Although it is an ensemble piece, in which Elizabeth Banks and Zooey Deschanel have been cast as the two other sisters, the film really belongs to Rudd.
It's a role that's a good fit for the actor. Many say he's better than the film itself.
Rudd says: "I loved the idea of playing a character like this. I would like to be the type of person that isn't jaded, that is present in every situation and gives people the benefit of the doubt."
Emily Mortimer sees Ned as a man who would find it impossible not to tell the truth.
These are good times for Emily Mortimer. She recently voiced the character of Holley Shiftwell in Cars 2, and soon she'll be appearing in Martin Scorsese's upcoming picture Hugo, alongside Jude Law, Sacha Baron Cohen, and Sir Ben Kingsley. It's a 3D film, and Mortimer has enjoyed watching Scorsese engage with the format: "He's so excited about it. He's like a kid in a sweet shop. It's just so wonderful to see him do it."
Read More
Filed Under: