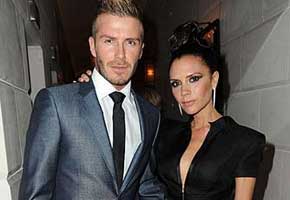 Y'know that family who've just had a new baby and they're so smitten they can't stop recording every aspect of their child's growth? And changing their Facebook profile picture to a picture of the baby? And getting the baby's name tattooed on a prominent body part? Well, The Beckhams are past masters at this, and are continuing this fine tradition by getting gold casts made of their new daughter Harper's hands and feet. (The Sun)
• Oh and apparently David has done the tattoo thing. (InStyle)
• Christian Bale and Tom Hardy — who are pitted against one another in our hunky Anglo Fan Favorites Tournament — are looking good on the set of The Dark Knight Rises.
• All is not happy in Arctic Monkeys frontman Alex Turner's world right now. He and his girlfriend of four years, TV presenter Alexa Chung, have split up. (The DailyMirror)
• By contrast, all IS happy in the world of artist/film director Sam Taylor-Wood and her fella, Aaron Johnson, as they're expecting a second child. (OK!)
• And the same goes for Westlife's Kian Egan. The Irish balladeer revealed via Twitter on Sunday (July 31) that he and his wife of two years, Wonderland girl grouper Jodi Albert, will soon be parents.
• Pete Doherty, who recently finished a spell at Her Majesty's pleasure for cocaine possession, has apparently forged an unlikely friendship with the French singer Carla Bruni, wife of the French President Nicolas Sarkozy. The pair intend to record together soon, too. (The Sunday Mirror)
• This is probably the first time ever that a Dame has been awarded something for the awesomeness of her body (forgive the noun, it's the most fitting to the award), but Helen Mirren has just won a poll conducted by 2,000 visitors to the L.A. Fitness gym chain, nearly 20 percent of whom believe she has the "Body of the Year" for 2011. Not that we're arguing, you understand.
Pippa Middleton came eighth. You were wondering, weren't you? (Unreality TV)
• So, last week, Morrissey took to the stage and made a silly comparison between the victims of the massacre in Norway (which had only just taken place) and the treatment of animals by McDonald's and KFC, which, while worth considering, was clearly massively tactless. He's now elaborated on his point in a statement published via True-to-you.net: "If you quite rightly feel horrified at the Norway killings, then it surely naturally follows that you feel horror at the murder of ANY innocent being. You cannot ignore animal suffering simply because animals "are not us."
He also criticized the news reporting of the tragedy, saying: "We aren't told the names of the people who were killed – almost as if they are not considered to be important enough, yet the media frenzy to turn the killer into a Jack the Ripper star is repulsive. He should be un-named, not photographed, and quietly led away."
• This one's for the WTF files: When vacationing in Cancun in July, Sir Richard Branson apparently swam into the very large mouth of a white shark. And this was after the Virgin mogul had undergone laser eye surgery. Yikes! (The Daily Telegraph)
• PBS' Masterpiece is enjoying a spike in ratings (43 percent to be exact) thanks to the success of Downton Abbey and other UK-centric TV programs like Sherlock and Upstairs Downstairs. Talk about a terrific way to turn 40. (The Press Association)
• In a charming Q&A with The Guardian, Sally Hawkins (Made In Dagenham, Never Let Me Go) says that she was highly disenchanted to learn that David Bowie wasn't exactly a "fairy king" when she was a small child. Plus, she'd love to have a "Darth Vader death pinch" during rush hour's usual chaos. Us too.
• Jessie J's signature jet-black bob is now purple. We dig.
• Franz Ferdinand's Nick McCarthy has revealed to NME that he and two of his best mates — actor Philipp Plessmann and designer Hank Schmidt-in-der-Beek — have written music to accompany a Shakespeare-themed puppet show. And the music has drawn inspiration from Grease, Jesus Christ Superstar, and Flight of the Conchords. The Tempest Puppet Music Show will premiere in London in September.
Read More
Filed Under: