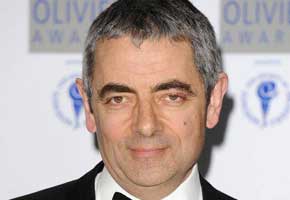 Rowan Atkinson is receiving treatment in hospital after he crashed his car in Cambridgeshire. He was driving his McLaren F1 along an A-road near Peterborough yesterday (August 4), and lost control. The car hit a tree and caught fire.
Luckily, despite a minor shoulder injury, he was able to get out of the car, and waited with a passing motorist until an ambulance arrived. (via BBC News)
• SkyLiving also has some lovely paparazzi shots of Dame Helen Mirren taking a break from her current job –— the Phil Spector movie — by playing hopscotch. Clearly this is how you get to look that good for that long, by unleashing your inner child at all times.
• Mitch Winehouse has revealed that he's setting up a foundation to filter the income from his daughter Amy's recordings out to various charities that she herself would have supported. Her version of "Body and Soul," a duet with Tony Bennett, will go to the foundation, the offices of which will be in Amy's Camden flat. (via The Evening Standard)
• Paul McCartney isn't terribly thrilled to learn that his ex Heather Mills' phone may have been hacked by The Daily Mirror a decade ago. Now he has the police involved. (via Billboard)
• U2 is working on a huge box set to commemorate the 20th anniversary of their 1991 album, Achtung Baby, with multiple CDs and DVDs, postcards, buttons and stickers… and a pair of replica sunglasses like Bono wore in the "The Fly" video. (via NME)
• Yuri Vasilyev is apparently still terrorizing Duncan Bannatyne and threatening his family via Twitter. And there's now a photo of the Russian stalker in question. (The Daily Record)
• Emma Watson may have not finished college yet, but she's already looking to the next challenge in life: starting a family. She told Company Magazine: "I have very strong family values and I definitely hope that will be in my future. I can't wait to be a mum and have my own family one day." (via Digital Spy)
• Watson's Harry Potter co-star Rupert Grint is now a hair metal rocker? We kid. But he did don some guyliner and a bandana when attending a gig by parody metal band Steel Panther recently. (via The Sun)
• In this summer's Mr. Popper's Penguins — starring Jim Carrey — we see Ophelia Lovibond play Angela Lansbury's assistant. And on the set, Lovibond says the 85-year-old Lansbury kept everyone thoroughly entertained.
"She kept doing this thing – like Morecambe and Wise when they run and click their heels to the side – she kept doing that all the time," Lovibond shared with The Press Association. "She's pretty sprightly. When we were shooting in the Guggenheim we didn't wrap one night until maybe 6 am I think, and she did that walking out of the Guggenheim."
• Jason Statham has purchased Ben Stiller's Hollywood Hills mansion so that he and his girlfriend, Transformers 3 star Rosie Huntington-Whiteley, can move in together. Awww! (The Evening Standard)
• Man Vs. Wild host Bear Grylls is a proud dad this week. His oldest son, seven-year-old Jesse, is a hero after coming to the assistance of a pal who fell into a stream. (STV)
Read More
Filed Under: