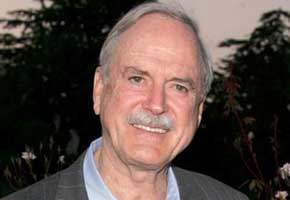 • Twitter is becoming a celebrity version of a monarch's court these days. You've got a slew of celebs sharing their two cents about the London riots this week, and Duncan Bannatyne was recently a victim of a Twitter stalker. Now, King John Cleese, presiding over 1.3 million followers, has decided to test his powers, by posting a few pictures of a paparazzi photographer who has been harassing him, to see if anyone knows who he is.
• Melanie C, the former Sporty Spice, who spent the bulk of her Spice Girls fame dressed in a nice, respectable tracksuit, has come out against the over-sexualization of singers in pop, with particular reference to Rihanna:
She told The Daily Mirror: "Rihanna has responsibility and although culture's always changing, it's changed too much. It needs to be dealt with. It's reached saturation point, we owe it to our kids to protect them."
• Cher Lloyd is on top of the UK Singles Charts this week with her debut single, "Swagger Jagger," so she's a proper pop star now, right? Well, she is certainly acting like one, as The Sun reports that the 18-year-old former X Factor contestant trashed her five-star London hotel suite, leaving ash and cigarettes butts everywhere. Um, Cher, you better check yo'self, stat!
• Anne Hathaway has a most unusual tale, one in which the reputation for hospitality and decorum for an entire nation — Scotland, since you ask — rests upon one street and the ability of the people who live there to refrain from posting pictures of a film star's rear end up on the internet.
She explained to The Daily Express that, after filming a skinny-dipping scene for One Day she had to run away, and for some reason, decided to moon her co-star Jim Sturgess: "So I did it and was feeling really good about myself until I realized we were shooting on a street in Scotland and every single resident of the building we were shooting in front of was filming us."
"But the Scots are nice (and haven't posted the footage online)… They have manners and they are discreet. I'm so grateful."
• Jon Lord, the keyboard boffin from '70s rockers Deep Purple, has revealed he's undergoing treatment for cancer. He's reassured fans that he'll be back to business as soon as he can. (via Rock AAA)
• Give it up for Russell Brand. The English actor just established the production company, Branded Films, with his business partner Nik Linnen. They'll be on the Warner Bros. lot in Burbank, of course, and with Beau Bauman at the helm, Brand will be on the lookout for "[film] ideas that could feature a long-haired actor with an unintelligible accent (Rasputin/Tarzan/British Jesus)." (via Deadline)
• Remember when we told you that Harry Potter star Tom Felton was entertaining the idea of becoming a rapper? Well, the dude seems serious about delving into the music industry, but he might go the pop route. He and McFly frontman Tom Fletcher are supposedly set to sync up in the studio… oh we cannot wait for this! (via Metro)
• The lovely Imogen Poots chats with The Playlist about her role in next year's Greetings From Tim Buckley: "I play a girl who [his son] Jeff [Buckley] meets when he is preparing to do a tribute concert covering his dad's music," she says. "She works at the location and it's really an exploration of their dynamic and how it evolves over four days."
Read More
Filed Under: