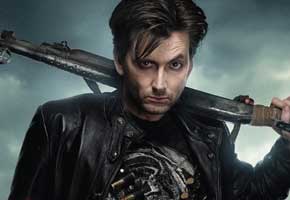 • David Tennant has been explaining what it was that led him to get involved in the remake of the movie Fright Night and it seems largely to be the fact that his character is as unlike the Doctor as is possible.
He told Collider: "To get to play someone who has this preposterous showmanship and public life, but who is hiding this bitter, disenfranchised, slightly grubby private life, and who is shut away in this absurd penthouse, from an acting point of view, that's just delicious."
And his co-stars Anton Yelchin and Christopher Mintz-Plasse seem to be overwhelmed with strong positive feelings towards their former Time Lord friend. Anton gushed to MSN: "David's wonderful. He's the nicest man, just charming and funny and really, really bright and just a pleasure to be around and work with."
Christoper added: "He owns this. He's fantastic in this movie, he's hilarious, and a great actor as well."
• Clearly both angling for a ride in the TARDIS there. Tsk… (via Femalefirst)
• Y'know how David Guetta has managed to transform many a pop career by essentially getting singers and rappers to join in with his dance creations? There's a strong rumour that Cheryl Cole will be the next to have a go, having been introduced by Cole's manager, Will.I.Am. David co-wrote "I've Got a Feeling" for Will's band Black Eyed Peas, y'see. (via MTV)
• Gruff singer-songwriter James Morrison has taken a leaf out of the Big Book of Promoting Movies and TV Shows by releasing a video trailer for his new album, The Awakening. The short film is essentially a travelogue of his last tour, set to tunes from the new album, and is quite good. You can watch it here.
• Meanwhile Brit-rockers Kasabian, who are about to release their fourth album, Velociraptor!, have revealed an unlikely tool in getting across the kind of sounds they want when working with an orchestral arranger. Cartoons.
Serge Pizzorno told The Sun: "I just explained what I wanted in basic terms like, 'You know the bit in Tom and Jerry where Jerry plays Tom's whiskers? – that sound', and she'd go, 'Ah, it's pizzicato!' and we'd get through it like that."
• There's a new trailer doing the rounds for the pre-Superman Henry Cavill film Immortals, in which he plays a preposterously buff greek hero Theseus. By all means watch it here, but be warned, it's bonkers.
• Hugh Dancy is returning to Broadway! The New York Times reports that the 36-year-old English actor has signed on for David Ives' new comedy-drama, Venus in Fur.
• So, Sir Ridley Scott has decided to make another Blade Runner movie. You know the one, his epic 1982 sci-fi film starring Harrison Ford and Sean Young. Who knows if it'll be a sequel or a prequel. (Deadline)
• Poor Posh. The former Spice Girl has been dealing with some excruciating back pain, which was supposedly onset during the c-section delivery of her daughter, Harper, in July. According to The Daily Mirror, a slipped disc is making it incredibly difficult for Victoria to snuggle up with her newborn baby girl. Awwww. Get well soon, Posh!
Read More
Filed Under: