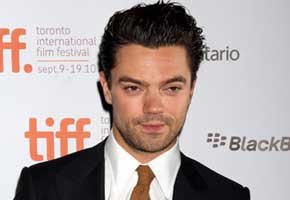 He may play the empirically evil son of Saddam Hussein (and his doppelgänger) in the film The Devil's Double, but actor Dominic Cooper is no baddie in real life. In fact, he's so civic-minded that, as a firm opponent of littering, he once threw someone's rubbish back in the car window it had just left.
But, as he told BBC's The One Show he probably won't be doing it again: "Six rather large burly people got out the back of the van and I ran for my life. All this stuff was pouring out, nasty chicken bones and cups. Some people maybe don't think about their environment, but for me, it makes me feel ill." (via the Daily Star)
• Speaking of super men, Henry Cavill, who is currently beefing up in order to fill out an already fairly well stretched Superman costume, has told Total Film magazine that part of the reason he's so keen to play the part is the high esteem to which the character is held by the American public: "I'm very proud to be British and playing an iconic American superhero. It means I am doing something right."
• For her next album, Grammy-winning songstress Adele says she might go a little bit country and a little bit bluegrass. Well, if this is indeed takes shape, she'll surely nail it, right? "I was exposed to a lot of country, rockabilly and bluegrass because I was touring for such a long time," she says. "The melodies and to-the-point lyrics I have found in a lot of American styles of music is definitely something I'm going be pursuing heavily from now on. I want to spend some time in Austin in Texas and Nashville, Tennessee, and learn about it." (The Sun)
• If you were harboring the faint hope that the new series of Sherlock might be hitting your screen at some point before the end of this year, it's looking very unlikely, sad to say. The BBC have been re-running the three episodes in the UK, and at the end of the third, last night, a continuity announcer said the new series wouldn't be with us until 2012. Boo! (via Den of Geek)
• Also on the fun-spoiler tip, Ricky Gervais has told the Today Show's Matt Lauer that he won't be hosting another Golden Globes. This isn't because of the mild outrage he caused the last two times he did it, he simply can't see what there is to gain from a third go, having already established that it's something he can do well.
Asked how he felt about the controversy surrounding his less-than-respectful comments, he said this: "I was poking fun at a room full of people who pretend to be someone else all day. It wasn't a room full of wounded soldiers. These are Hollywood actors!"
• Victoria Beckham is apparently very worried that the thick, lustrous mop of hair she managed to grow during her pregnancy (it's a hormones thing) will revert to its previous, thin and slightly brittle form: so Now magazine claims, at any rate. Could this explain the size of her family?
• Due to the Internet firestorm around the tale of Sooty and Paul Daniels, the little bear's puppeteer – Richard Cadell – has stepped forward to offer an apology on behalf of his silent colleague.
The best line: "Sweep said Sooty was so shocked by it all that he was speechless afterwards." (via the The Daily Telegraph)
• Irish actress Ruth Negga (Misfits, Love/Hate, The Nativity) will portray Dame Shirley Bassey in an upcoming biopic on the Welsh-born Bond singer. Shirley Bassey: A Very British Diva will premiere on BBC2. (The Daily Telegraph)
• The Hollywood Reporter has some awesome behind-the-scenes snaps of Steven Spielberg's Terra Nova. The FOX sci-fi drama, which premieres September 26, stars Shelley Conn (Mistresses) and Jason O'Mara (Life On Mars).
• Sir Elton John and David Furnish are enjoying some quality father-son time in St. Tropez this week. The proud daddies suited up 7-month-old baby Zachary in a lifejacket prior to jetting off on a luxurious yacht, and also hung out with Neil Patrick Harris and David Burtka and their twins, Gideon and Harper. 'Tis the life. (The Daily Mail)
• While their bandmate Gary Barlow is now spending his days meeting countless aspiring singers as an X Factor judge, Robbie Williams and Howard Donald don't exactly dig the reality singing competition. (The Daily Mirror)
• Speaking of Robbie, he and ex-New Order bassist Peter Hook are apparently getting on quite well these days. Just two years ago, Hooky was pissed off after a planned collaboration with the "Rock DJ" singer didn't come to fruition. But in an BBC Radio 4 interview slated to air Friday (August 5), Hook has plenty of lovely things to say about him. (Belfast Telegraph)
Read More
Filed Under: