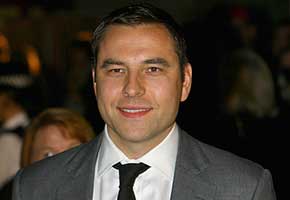 POTENTIAL SPOILER ALERT: If you thought David Walliams looked scary when mimicking Pippa Middleton and Princess Beatrice, beware. He goes by the way of Mole from The Wind in the Willows in a forthcoming episode of Doctor Who. (via Metro)
• According to Britain's Now magazine, Amy Winehouse's ex-husband, Blake Fielder-Civil, is planning a book about their time together, dipping into his archive of snaps of the two of them in various different states of chaos. A delightful prospect, I am sure you will agree.
• Russell Brand has signed up to appear in Lamb of God, a film in which a young and religious woman has a crisis of faith, meeting a charismatic and slightly risqué bartender in Las Vegas. (via Total Film)
• John Barrowman's next greatest hits set of loved up tunes, Tonight's the Night – The Very Best of John Barrowman, drops September 5 overseas. U.S. fans, you'll have to sit tight a week. But it'll be worth the wait, as our dear John has included two brand new tracks. Yay! (Barrowman Day)
• Granted, we're entering a degree of separation from Things Americans Are Actually Interested In here, but if you have been following any of the on-again, off-again shenanigans surrounding Cheryl Cole and her ex-husband, Ashley, you might be interested to know that he has hired a former SAS (Special Army Services) guard to keep him away from women. That's how committed he is to Cheryl, he's prepared to throw money at the problem, instead of, y'know, himself. (via Music Rooms)
• Oh, and while we're on the topic, a recent poll for Vanity Fair found that two-thirds of Americans don't know who Pippa Middleton is. More worryingly, 2 percent of those who claimed they did know thought that she's a porn star. Must be all that web fixation on a certain aspect of her physiognomy, huh? (via The Guardian)
• Rod Stewart has confessed to forgetting his children's names from time to time. The father of eight also admits that he can no longer hang with late-night diaper duty for 5-month-old son, Aiden, who was born in February. He's just too tired. (via STV)
• If you thought Robbie Williams was stickin' with his Take That mates for good, think again. The chart-topping singer even blames his oversized ego for it, too, as he has plans to resume his solo career in the coming months. This shouldn't be surprising, should it? I mean, the guy has a song called "Ego a Go Go."
"The gigs have been absolutely amazing – the best period of my career so far with those boys," Williams told The Sun. "Sharing it with somebody is much better than doing it by yourself, but then ego, want, need and a whole heap of other things kick in."
• Keira Knightley has apparently been spending some time manning the skins. And learning guitar. Perhaps she'll one day join her boyfriend, The Klaxons' James Righton, on stage for a bit of a jam? (via The Sun)
• Is Naomi Campbell gearing up to walk down the aisle with her Russian billionaire beau, Vladislav Doronin? (The Daily Star)
• We all get a little irked by local authorities telling us what to do, right? Well enjoy this, possibly the most preposterous sign in the world.
Read More
Filed Under: