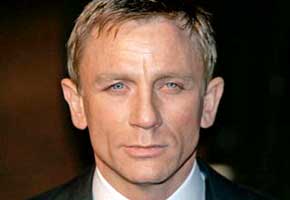 For all that his character James Bond is adept with modern technology, you won't see Daniel Craig settling down with an iPad to put his innermost feelings on social networking sites. He's not a fan: "I am bloody not [on Facebook]. And I'm not on Twitter either… 'Woke up this morning, had an egg'? What relevance is that to anyone? Social networking? Just call each other up and go to the pub and have a drink."
Yeah! Tell them you had an egg when you get to the pub! (via Digital Spy)
• NBC is remaking two British TV series this season – the comedy Free Agents and the classic Helen Mirren police drama Prime Suspect. But both adaptations will be "less dark" than the UK originals, Deadline reports. For example, on NBC's Suspect, Maria Bello's Jane will be a drinker but her stories won't "delve into alcoholism," as the British original did with Mirren's Jane.
• Was Amy Winehouse secretly engaged to Reg Traviss when she died? AND investigating adoption? The Sun says yes. (via Heat)
• Benedict Cumberbatch fans will be pleased to hear there's a new film on the way in which he plays one of three London brothers who believe they've inherited a pub in Ireland, only to discover it's actually a funeral parlor. Where There's a Will looks likely to be shot in Ireland next year. (via Belfast Telegraph)
• After his baby boy, Max, was born this spring, James Corden reveals that daddyhood wasn't all that it was cracked up to be… at first. When visiting Xfm Radio this week, the former Gavin & Stacey star said: "For a while it's nothing but annoying and then slowly and surely in around three months when you get a smile you go, 'Aww, actually you're all right'."
He continued: "Let's be honest – I'm fed up of these guys who go, 'Aww! The minute I held it in my arms, I just knew I'd jump in front of a bus for it.' No you didn't. A parked bus maybe." (via The Press Association)
• Orlando Bloom has become so smitten with the costume he wore during the filming of the new Three Musketeers movie that he took it home. He told FemaleFirst: "That's definitely a fancy dress outfit one day down the line – probably for my son."
• We know the rapper Jay-Z is a big fan of the British indie bands, what with his love of Coldplay and close friendship with Chris Martin. But did you know he's recently been converted to the joys of Elbow? BBC Radio 2 DJ Jo Whiley told BANG Showbiz he watched their Glastonbury set from the wings, enthralled: "He was saying, 'tell me about this band, who are they, what have they done?' And he was genuinely, really interested, and he did love Elbow." (via Tourdates)
• And that's not all. Jay has also become enamored with Scottish singer/songwriter Paolo Nutini, and wants to work with him. If you're unsure as to who that is, here's a taster for his song "Candy."
• Now that she's married The Kills' Jamie Hince, might English supermodel Kate Moss be ready to settle down a bit? According to her longtime galpal, Sadie Frost, she is indeed enjoying more of a quiet life these days, and sometimes it involves a good, old-fashioned game of bingo. (via Hello!)
• The gorgeous Imogen Poots — who we'll see in Fright Night with David Tennant and Colin Farrell this month — strikes a pose for Chloé's latest fragrance line. (Beauty High)
• Lily Allen can't get her mind around the fact that she has 3 million people following her on Twitter. "3,000,000 followers, insane," she tweeted over the weekend. "You guys must be bored out of your skulls! Thanks all the same x Coops x." Oh Lily, we love ya!
• East 17, one of the nineties' biggest British boybands, will embark on their 'Back to the Future' tour this month, but Blair Deelan will be sitting in for original singer Brian Harvey. Anyhow, the lads have challenged Take That to a charity cage fight, hoping that such a bizarre set up will give them some extra publicity. Um, no thanks. (Metro)
• Kate Beckinsale says she wasn't entirely sure she'd be back for a fourth Underworld film. Lucky for us, she's reprising her role of the ass-kicking Selene in 2012's Awakening. (Shock Till You Drop)
• A teaser to Damon Albarn's new African-inspired project, Africa Express, is now available at NME. It's a quick snippet called "Hallo" and features vocals by Tout Puissant Mukalo. And naturally, it totally rules!
Read More
Filed Under: