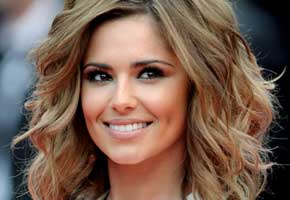 Cheryl Cole has finally picked herself up after the endless media squabblefest around her X Factor sacking (a situation we've now decided to call "Nonsensegate") and nabbed a film role opposite Cameron Diaz and Jennifer Lopez.
The film's called What to Expect When You're Expecting, and Cole plays a judge on a TV talent show — a part she'll have almost definitely taken as a poke in the eye for her former boss. Heh. (via FemaleFirst)
• Speaking of whom, Simon Cowell has once again proved that there's nothing going on in the world that he can't stand in front of and point to himself. On the topic of Pippa Middleton, he has decided that his mighty talents could be put to use in order to transform her from her lowly position in the shadows into an international star.
He told Life & Style magazine: "I haven't heard her sing, but if she walked in and said, 'I want to be a TV star,' I would sign her on the spot. She has the 'X factor.' To overshadow your sister when she's the one getting married? That was impressive."
Yep. And it's just possible she can overshadow even for your mighty empire, Simon.
• Mind you, it's not just Pippa who has the capability to upstage the bride and groom. Mumford & Sons have been asked to play at the wedding of keyboardist Ben Lovatt's sister, and they've said yes. Let's hope her dress is spectacular, or focus could well and truly be pulled in their direction. (via The Sun)
• Coldplay's long-awaited fifth album is on it's way! Mylo Xyloto (pronounced MY-lo ZY-letoe) will arrive in the UK on October 24, while stateside fans will likely get it the very next day. (via NME)
• Daniel Craig may be a tough guy on the screen, but his biggest fight to date has been with the killer weed, and even though he's managed to give it up, it looks like a battle that will rumble on inside him for years.
When asked why he finally did quit smoking, he replied: "Because it's stupid, no offense… yes I love it, it's dumb and it will kill you… It's still a constant struggle, they always say you're an addict and you can never actually stop being a smoker." (via Contact Music)
• We have some more news on the Craigster: The 43-year-old actor says he fulfilled a life-long dream of working with Harrison Ford when the two were cast together in Cowboys & Aliens. "When I was young, I sat in a cinema on my own watching Blade Runner, and I thought, 'I want to work with this man' – and then I did." (via Metro)
• Uh oh! We're quite sure that Liam Gallagher is going to be pretty PO'ed that some rioters trashed his Pretty Green store in Manchester and swiped nearly $440,000 (£270,000) worth of merchandise. One of the troublemakers, Eoin Flanagan, was nabbed by police and properly hauled off to the clink. (The Daily Telegraph)
• James Corden and Ruth Jones, the pair wrote Gavin & Stacey, and hogged most of the memorable moments from the show, are working on a new TV comedy for Sky 1. Well, kind of. Ruth's starring in Stella, about a woman who lives in the Welsh valleys, and James has agreed to make a cameo appearance. (via TV Scoop)
• Speaking of Gavin & Stacey, Joanna Page thinks a musical on the well-loved sitcom would be a lovely idea. "I'd like to make a film if we could be filming in Hawaii or Spain or somewhere, that would be nice, but I don't think we'll ever do a film because everything was all done in the telly series," Page explained. "I'd quite like to do a musical, that would be quite fun if we could do it all with rock songs. Although my singing is not that wonderful, so I'd probably have to speak-sing my bit." (Press Association)
• Dizzee Rascal wants to work with Dave Grohl: "I'd love for Dave to produce a track, or just get his perspective and get some of the s*** he knows. Next album, I'd love to." (via The Sun)
Read More
Filed Under: