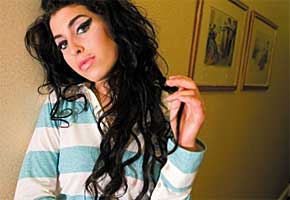 Amy Winehouse's  family have just released a statement concerning her toxicology report, which has come out in advance of the results of her inquest.
Chris Goodman, speaking on the family's behalf, told Associated Press: "Toxicology results returned to the Winehouse family by authorities have confirmed that there were no illegal substances in Amy's system at the time of her death."
He went on to reveal that there were traces of alcohol in her system when she died, but no comment has been offered as to the quantity, or whether drinking could be the cause of her death.
The full results of her inquest are due in October.
Here's what else is going on today:
• George Michael has used the stage as the perfect place to announce that his relationship with Kenny Goss ended over two years ago, despite having denied this very thing for a long time. He's on a 195-date tour with an orchestra, and this happened on the very first night. Who knows what relevations we'll have experienced by the last? (via ABC news)
• The Sun are reporting that Sir Elton John is planning a huge concert in London next year to celebrate the London Olympics. So naturally, he's looking to work with a band whose enormous sense of scale is matched only by their preposterousness; Muse. Expect fireworks, fireworks and then more fireworks.
• Is Rihanna planning to work with the UK's own Ellie Goulding? The pair were spotted exchanging phone numbers at V festival, after Rihanna invited Ellie to her dressing room for a chat. (via Music Rooms)
• Robert Pattinson claims to have had a twinge of body-envy when seeing his own, slightly puny frame on screen, after being used to the sculpted contours of Taylor Lautner's rippling torso. So much so it made him more than usually nervous for his love scenes in the forthcoming Twilight movie. He explains: "Jacob, as a werewolf, has bared all already in the last two films. And to be honest, I can't keep up with him." (via Female First)
• Kate Moss's wedding shoes had to be remade. Not once, not twice, but FIVE TIMES. I know! (via IMDB)
• Little Britain's David Walliams ran into a spot of bother recently when, on his Channel 4 series Awfully Good Show he described Simon Curtis, a contestant on the difficult BBC quiz show Mastermind, as "astoundingly thick" for only getting one answer right in his specialist round. Mr Curtis failed to see the funny side and complained to the broadcasting regulator Ofcom. Ofcom DID see the funny side, however, and have rejected Simon's claims of being unfairly mocked (possibly because, as a comedian, that is what David Walliams does). (via Orange)
Read More
Filed Under: