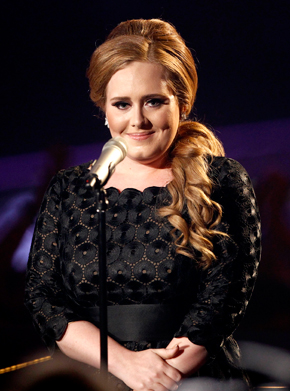 Katy Perry wore a cheese on her head. Nicki Minaj wore a SARS mask. Lady Gaga, not content to choose her fashions from a meat locker, well, she underwent a sex change.
But there was no Kanye/Taylor Swift moment at this year's MTV Video Music Awards, held in Los Angeles on Sunday (August 28). (Even Mr. West, who performed with Jay-Z as well as accepted an award for his collaboration with Ms. Perry, was notably well-behaved.) The ceremony went by briskly without a host, but viewers were starved for that one gaffe, that one staged same-sex kiss, that one stage invasion that could dominate news cycles and give the VMAs relevance of years past.
There were strong performances. Chris Brown, now a mustache-twirling villain for many in the audience, nonetheless displayed virtuosity and athleticism as he danced to a medley of MTV-defining hits (like Nirvana's "Smells Like Teen Spirit") and catapulted himself into the air on wires. Beyoncé looked trim as she strutted on stage, wearing a sparkling Vegas-style suit before unbuttoning it to reveal a prominent baby bump.
Yet, for many, the evening belonged to three British singers: Jessie J, Adele, and the late Amy Winehouse. Jessie J, who has been sitting on the cusp of a true U.S. breakthrough this year, was the VMAs' house act, singing before and after commercial breaks. Forced to perform from a throne-like chair due to a leg injury, she wore a blinged-out cast and quite capably belted some familiar songs. (Dare we say that her "Firework" trumps Katy Perry's original?) Given that her name was a top trending topic throughout the entire telecast, this could be a star-making moment for her.
Adele is already a bonafide star in the U.S., with a huge No. 1 single and album to her credit. She won four of the seven trophies she competed for, losing Video of the Year to the aforementioned Perry. But her greatest achievement was her stripped-down, sincere performance of her ballad "Someone Like You," featuring the vocalist in an elegant gown on a darkened stage, accompanied by a sole pianist. It won her a standing ovation and a groundswell of tweets praising her talents.
In his tribute to Amy Winehouse, comedian Russell Brand noted that Adele owed Amy a debt. (Adele nodded in agreement from the audience.) Brand, who was a friend of Amy's, has previously written eloquently about his hopes that Amy's death would lead to a deeper understanding of addiction. He reiterated that plea last night: "She suffered from alcoholism and drug addiction. A lot of people just get the disease. Not many people get the incredible talent that Amy was blessed with. All of us here tonight know people who are affected by [addiction], and let's remember that there is a solution for those who need it."
Brand introduced singer Tony Bennett, who presented some previously unseen footage of his recording sessions with Winehouse, which took place four months before her death. The video, featuring a smiling, tan Amy singing "Body and Soul," made our collective loss of Amy profoundly felt: here was an artist still in command of her immense talent. MTV's tribute closed with Bruno Mars doing a Jackie Wilson-esque rendition of her hit, "Valerie," a pedestrian interpretation that served to only highlight how masterful Amy's version was.
For winners and more from the MTV Video Music Awards, click here.
Who do you think owned the 2011 VMAs?
Read More
Filed Under: