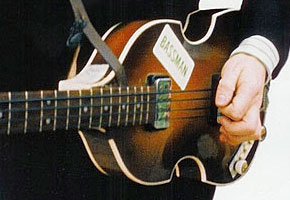 So, we've done the gentleman singer, the inventive guitar player, the stick-twiddling drummer, but our great British band cannot be complete without the guy (or girl) who glues the whole thing together. It's fine for the White Stripes to go out there without a bass player, but most other bands feel the need for a little bottom-end to their rock noise. And here (in no particular order) are five people who, in their own way, influenced the way those low frequency noises are used.
Paul McCartney – The Beatles
It might seem like a cheat to show a video of someone else playing the bass part to a Beatles song, and to use that as example of Paul's marvellous prowess on the instrument, but the thing about his playing is that it's always from an arranger's perspective, and this is a great illustration of what he can do, given a brilliant song and some room to move. It sounds composed and yet also improvised. He uses the instrument as a melodic lead as well as a sonic foundation from which the song can be built. Ringo and John work the rhythm far more than Paul does, which leaves him free to wander, especially in those late period Beatles songs where he left an entire track (of only four, remember) to record his bass on, right at the end, so it could be heard bubbling away.
Andy Rourke – The Smiths
Where Sir Paul played the bass like a lead instrument, Andy played it like he was filling in for the rhythm guitarist. Listen to "Barbarism Begins At Home", and you've got Johnny Marr playing rhythmic lead guitar, all elbows, and you've got Andy Rourke playing rhythmic bass, so it becomes hard to tell which instrument is which. Certain Smiths songs are impossible to imagine without the backbone of Andy's constantly inventive and melodic bass runs. "Heaven Knows I'm Miserable Now" is held together by them. Which means there were effectively three geniuses at the heart of the band, not just the two you tend to hear about the most.
John Entwistle – The Who
It's almost embarrassing to put together Top 5s like these and include members of the Who in all but one of them (Gentleman Singer), but you can't even think about bass players without acknowledging the singular contribution made by John Entwistle. He'd be worthy of inclusion had he done nothing but the bass solo in "My Generation," and anyone familiar with the band's work knows he did a LOT more than that. He was playing finger-style, slapping and popping, years before anyone (bar a few other bass innovators, like Motown's James Jamerson) really know what it was, and this allowed him to dominate the low and middle ground of the sonic territory on offer. Effectively, John's bass was the bridge between Pete Townshend's strident riffing, and Keith Moon's drumkit-down-the-stairs onslaught. Less classically melodic that McCartney, but a lot raunchier, as this video which isolates the bass from "Won't Get Fooled Again", serves to prove.
Peter Hook – Joy Division, New Order
Proof that personality is everything when it comes to making music. Hooky started playing melodies up the neck of his bass because he couldn't hear it properly during band practises and everything was already turned up to 11. This bullish move, together with an insistance that basses should be worn somewhere around the knee region, are typical of a man who clearly acts first, and worries about the possible problems later. However, when the band moved from frosty post-punk to grumpy electronica, that high-end bass fitted in perfectly. The synths could carry the low end, Stephen Morris could carry the beat, and he could come in with one of those odd, monolithic melodies, whenever the time felt right.
Bruce Foxton – The Jam
A personal choice, but not a bad one. When I was 17, I wanted nothing more than to play the bass like Bruce Foxton, and leap into the air, doing that jump he does where he tucks his legs underneath him, like his socks are on fire. Another bassist who had to fill out the sound in a power trio, Bruce's gift was that kind of rock hard, flinty, twiddly thing, where his bass has a very sharp, specific role to play, with no room for jamming of any sort. He's the punk McCartney, playing a LOT of bass, but only to serve the song and keeping things ticking over.
And if you don't like that, why not substitute Bruce Thomas from Elvis Costello and the Attractions, for the same reasons:

Who's your favorite British bass player? Tell us here:
Read More
Filed Under: