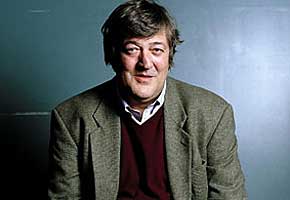 C'mon now, some of you out there have, at one time or another, wondered what it might be like to share a beer with your favorite British celebrity. For those who want to own up to it, who comes to mind? Would you like to kick a few back with Prince William or Prince Harry? Perhaps it's your dream to get good and sloshed with current Time Lord Matt Smith. What about Helena Bonham Carter or Dame Helen Mirren? Something tells me those two ladies can hold their own.
Anyhow, according to a poll conducted by the Great British Beer Festival — which kicks off Tuesday (August 2) at Earls Court in London — 600 British folks want to crack open a cold one with Stephen Fry. A few reasons given as to why he'd be the ideal drinking mate are as follows:
• "The quipping would be as good as the quaffing."
• "He's a very knowledgeable man who would appreciate the delights of Real Ale"
• "His wit and humor would make it a perfect accompaniment to a perfect pint of Ale!"
• "Because he would give an anecdote whilst supping a good pint."
I think we can agree on all that, right? Others who made the Top 5 include late actor Oliver Reed, Top Gear star James May, Winston Churchill, and the larger-than-life voice actor Brian Blessed. British Prime Minister David Cameron landed on the list, as did Kate Middleton and Lady Gaga.
Would you like to grab a pint with Stephen Fry? If not, who?
Read More
Filed Under: