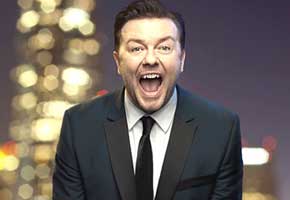 Um, we think it's pretty crazy that Ricky Gervais hasn't appeared on Family Guy yet. They're the perfect match, right? Each are controversial, clever, snarky, and gut-bustin' hilarious!
Well, the time has come my friends. The 50-year-old British comic will be spending time in Quahog, Rhode Island for one full season. But he won't be playing himself; he's actually voicing a dolphin named Billy Flynn. And a dolphin with a full name? Nice!
"Family Guy is my favorite show at the moment," Gervais told The Daily Telegraph. "I watch two a night and I'm slightly obsessed."
He continued: "When Seth MacFarlane [Family Guy writer] phoned me out of the blue and said he was a huge fan I was delighted. It was such a joy working with the team and I really like the way my character looks too."
Are you looking forward to seeing Ricky Gervais on Family Guy?
Read More
Filed Under: