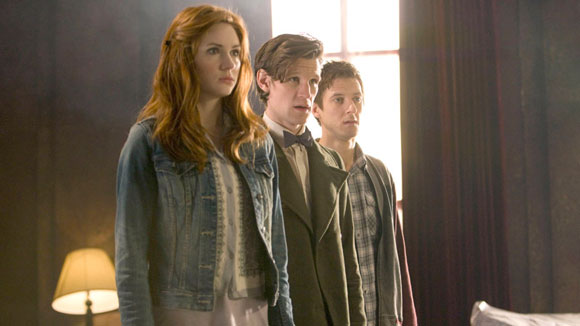 • Matt Smith has a request for the upcoming 50th anniversary episode of Doctor Who: he wants it to be filmed in 3D: "I love making Doctor Who and I get to be part of that 50th year which they'll do something mental for," he tells Bang Showbiz (via The List). "You know it will be brilliant. I'm interested in all the 3D stuff…
"If it could be filmed for 3D TV that would be fun, especially with Doctor Who, but it's very expensive. I don't know how they'd do it."
Readers, what do you think? Would you like to see a 3D episode of Doctor Who? Think of how amazing the TARDIS would look…
• Without being too spoilery for those who haven't seen the episode, there was a lovely, almost Tracy/Hepburn-esque dance of flirtation and one-upmanship between the Doctor and River Song in this past Saturday's midseason premiere, "Let's Kill Hitler." (And lots of clever Graduate references.)
Here's an Inside Look at the episode, but you'll want to have seen "Let's Kill Hitler" first. If you haven't seen the episode yet, there's an encore presentation that airs tonight at 12 am ET. (That's Wednesday morning for those of you East Coasters setting DVRs.) This is particularly great for folks who were affected by Hurricane Irene's wrath over the weekend.
Also, "Let's Kill Hitler" delves into the backstory of Rory and Amy's romance. Here's an Inside Look at that. Again, spoilers!
• Did you catch Matt Smith's appearance on G4's Attack of the Show last week? Here's the interview, which took place just after Comic-Con. He gushes over True Blood and gives a tease of this season's upcoming episodes:
• Episode 9, the Mark Gatiss-written "Night Terrors," premieres this Saturday (September 3) at 9/8c on BBC America. Here's the plot teaser: "The Doctor receives a distress call from the scariest place in the Universe: a child's bedroom. Terrified of the monsters in his cupboard, George's pleas for help break through the barriers of all time and space. But allaying his fears won't be easy, even for the Doctor. Because George's monsters are real."
And here's a trailer:
• When it comes to considering other roles outside the Whoniverse, Matt Smith says it can be somewhat challenging. The thing is, when it comes down to it, playing the Eleventh Doctor is pretty much the cat's meow for Mr. Smith.
"It's so funny, I read other scripts and I just go, 'Not as good as Doctor Who!'" Smith recently told the Press Association. "For me, it's a privilege to play this man. These parts don't come along that often. There was never any hesitation on my part to stay for another year."
• Does Matt Smith worry about being typecast as the Doctor? Not on your life. He tells The Scottish Daily Record: "I don't think good actors get typecast. In 10 years' time I'll be playing very different parts than I am playing now. So there is plenty of time for me to evolve as an actor."
• Alex Kingston opens up to the Radio Times about what it was like coming to Doctor Who three years ago. "I wasn't quite sure about accepting when I was asked to do two episodes. Living in America I hadn't followed the resurgence of Doctor Who, but I cried when I read the script to "Silence in the Library" because it was such a sad story – River Song encounters the Doctor in the 51st century.
She continued: "It's similar to Audrey Niffenegger's novel The Time Traveler's Wife – two people who have great love for each other, but are never able to meet in the right space or time. The sadness was of a woman with a close connection to the Doctor who sacrifices herself to save his life. I didn't expect to be asked back."
• How has the mother/daughter revelation about Amy and River Song affected the real-life relationship between Karen Gillan and Alex Kingston? Gillan tells The AV Club, "We've had so much fun with that, and actually, I feel slightly maternal toward Alex Kingston now, honestly. And she acts younger around me; it's really funny how that's turned into our actual way of interacting."
• Arthur Darvill also says he needed time to adjust to the revelation that Rory was River's father. He tells Bang Showbiz: "It was a strange thing but brilliant."
• Ever wondered what it's like to be a Dalek? Is there Dalek "etiquette"? Major Whovian and YouTube star Charlie McDonnell gets some first-hand training from Doctor Who's chief Dalek operator Barnaby Edwards. Here's a clip:
• Congrats to the Bull Family of Madison, Wisconsin, who won the grand prize in the Where's The TARDIS contest: a special premiere screening of Doctor Who "Let's Kill Hitler" in their hometown AND all 47 years of Doctor Who on DVD! (Jealous much? We are.) You can find photos of the screening on the BBC America Facebook page.
The Bull Family's winning entry was their Ice Shanty TARDIS, which has a real function: they use it for ice fishing.
Read More
Filed Under: