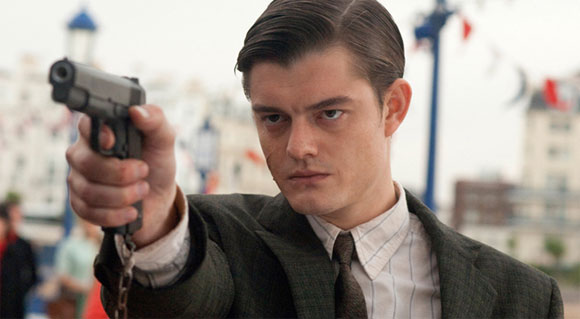 British actor Sam Riley recalls that getting cast as the lead in the film Brighton Rock (out today, August 26) came just in time: "I was very desperate for work but also wanting to keep some sort of standard going, and I couldn't really resist it."
The 31-year-old actor is best known for his spellbinding portrayal of Ian Curtis, the lead singer of the 1970's band Joy Division, in the 2007 film Control.
For Riley being offered the plum role of the young menacing gangster Pinkie — in an adaptation of Graham Greene's novel — was very welcome news.
The film's strong cast, which includes Dame Helen Mirren, John Hurt, and Andrea Riseborough, made it especially appealing: "I didn't feel like I could really say no to it. It's a fascinating opportunity to play with such great actors as well and to be a lead again. It's daunting, but then you just have to think, "Well, come on." I knew as well that if I saw somebody else doing it, I'd be pissed off."
On Dame Helen the actor says: "It was intimidating first meeting her coming in the room." But he found her inspiring: "The way she carries herself in life and her professional attitude to things. Also, she's good fun."
Soon Riley will be seen in another leading role, playing Sal Paradise, the alter ego of novelist Jack Kerouac, in a film adaptation of his celebrated book On The Road.
For Riley, landing the part was a big deal. Over the years. some top actors, including Johnny Depp and Brad Pitt, have reportedly come close to doing the role.
Riley found making the film, directed by Walter Salles, a tough challenge. He says: "It was a six-month shoot, very low-budget. We did our own driving, and we went all the way across America and back more or less."
He hopes the trials and tribulations of the shoot make for a good picture.
Riley has come a long way without any formal training. He believes that one drawback is that he's had to learn his craft in public rather than working behind closed doors in a drama school.
He now lives in Berlin with his wife Alexandra Maria Lara, who starred opposite him in Control.
Riley says that he misses certain things about Britain: "A good warm pint and Yorkshire puddings as well!"
Now he's waiting for his next gig to come along: "I'm not sure what it's going to be yet. Fingers crossed that I won't have to wait too much longer," he says.
Read More
Filed Under: