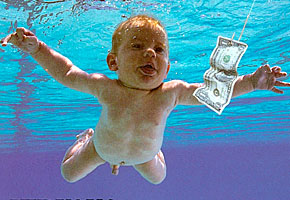 Next month is the 20th anniversary of Nirvana's globe-changing 'Nevermind' album. That's 20 years since hair metal lost its rebel cool, 20 years of alt-rock rule, and 20 years of people jumping into swimming pools with waterproof cameras to pretend to be the baby in the album cover.
There are lots of plans to celebrate this musical milestone, including a special exhibition at London's Loading Bay Gallery, promising "an abundance of professional photographs and band memorabilia."
Which is all very well and good, but we British have already made our tribute to Kurt Cobain and his towering muse. We have already bent the knee and proffered a kiss to his papal ring.
If this live recording of "Smells Like Teen Spirit" by Take That does not count as a fulsome sacrifice to the grunge gods – at times it is as if music itself has died – then I don't know what does:
Note: This was filmed on the band's final tour before they split up in 1995, and frankly it shows. Instrumental prowess is not Take That's forte. It's not even their twente. And Gary Barlow in leather trousers, ripping his T-shirt off like Iggy Pop the prefect, is just about the wrongest thing ever seen on the British stage. There again, there's a certain grisly fascination to the whole affair. Once seen, never forgotten.
Kurt, wherever you are, you're welcome sir!
How will you be marking the special occasion? Tell us here:
Read More
Filed Under: