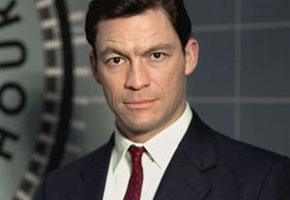 If you're planning to settle down on August 17th to watch the new Dominic West drama The Hour, right here on BBC America, you may be wondering what life can have been like for the poor beleaguered British back in the 1950s.  You may want to have some kind of training in '50s culture, so you get all the reference points. After all, we were two nations in very different states of recovery at the time. So here's a brief guide:
In the UK, we'd just won a war, with your help, but were still being rationed and generally pulling ourselves together. We'd launched the welfare state, the NHS, partly as a reward for the sacrifices our nation had had to endure in order to survive. Many of our cities were still riddled with bombed-out buildings and unexploded shells, and our once-mighty Empire was crumbling like a wet loaf in a shower.
On the other side of the Atlantic, you were presiding over a period of huge confidence and expansion. The motor industry was booming, you invented "The Teenager," and some kid called Marty McFly was running around on a skateboard made from a wooden crate. It was, in a very real sense, the time of your lives.
Here are some other ways in which our two mighty nations compared and contrasted at the time.
America Had: Marilyn Monroe
Britain Had: Diana Dors
This one is actually pretty hard to call in terms of who had it best. You had a blonde bombshell, and so did we. Ours had a less than wonderful life, so did yours. Yours appeared on the cover of "Sergeant Pepper's Lonely Heart's Club Band," and so did ours. OK, Marilyn's the icon, and Diana never got so much as a mention in "Vogue" by Madonna, but still…*wolf-whistles*
America Had: James Dean, Marlon Brando, Monty Clift, and Paul Newman
Britain Had: Richard Burton, Laurence Olivier, Ralph Richardson, and Peter Sellers
America Had: Jackson Pollock
Britain Had: Eduardo Paolozzi
America Had: "Rock Around the Clock"
Britain Had: "Rock Island Line"
On both sides of the Atlantic, a rock rocket had been prepared, full of musical talent and explosive energy. All it needed was the blue touch paper to be installed and lit, and that purpose was fulfilled by one song. For America, it was Bill Haley's super-sprung update of "In The Mood," and for British youth, it was Lonnie Donegan belting out an old Leadbelly tune. Anyone could join a band and play something that simple, and from the skiffle explosion that followed came the entire British music scene of the Sixties. But don't take my word for it, ask the late, great John Peel:
America Had: Elvis Presley, Chuck Berry, Jerry Lee Lewis, Bo Diddley, and Little Richard
Britain Had: Cliff Richard, Tommy Steele, Marty Wilde, Joe Brown, and The Shadows
OK, we know, you totally beat us hollow when it came to rock 'n' roll, having invented the form and all that. But we still had a pretty good go at it, even if our enormous parade of cheekbone-y youths failed to match the primal intensity of one single Bo Diddley riff. Our secret weapon was The Shadows, though, a thoroughbred instrumental outfit with outstanding guitar work from Hank B. Marvin. Sadly they didn't really hit their stride until 1960.
http://www.youtube.com/watch?v=xPUrIvftJiI
America Had: Doo wop
Britain Had: The Beverley Sisters.
America Had: I Love Lucy, The Honeymooners, and Leave It To Beaver
Britain Had: The Goons, Educating Archie, and Hancock's Half Hour
As culture-defining to the Brits as Lucy was to the Americans, The Goons even ensnared a fan at the very top of the Royal Family (Prince Charles has been known to do a few funny voices in his time). But it was Tony Hancock and his sour-faced moping that has cast the biggest shadow over the national psyche. Or is it that we were like that anyway and he was the first to put it on the TV?
America Had: The Catcher in the Rye
Britain Had: The Lord of the Flies
America Had: Hugh Hefner
Britain Had: Terry-Thomas
It's fairly well established that the British love a giggle at matters of sexual excitement, so our totemic playboys, even the posh ones, are usually comedians, or at least very funny men. A tradition that continues right up to Russell Brand today. Apologies for the BP clip, but my God, doesn't this say it all?
Hope this helps! Keep an eye on Anglophenia over the next few days for more '50s-related stuff.
What did we miss? Tell us here:
Read More
Filed Under: