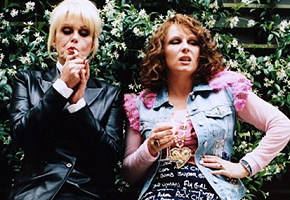 It was only a matter of time before those doyennes of debauchery were back on our screens. Today (August 29), BBC America and the Logo network announced that Absolutely Fabulous would return to American television in three brand-new specials to celebrate the landmark Britcom's 20th anniversary.
The sleazy, boozy antics of overweight PR exec Edina Monsoon (Jennifer Saunders) and her needle-thin editor mate Patsy Stone (Joanna Lumley) were widely imitated but never bettered. (Talking to you, Cybill Shepherd and Christine Baranski.) The trio of upcoming specials will reunite the aging addicts with their fine supporting cast – Saffy (Julia Sawalha), Eddy's bookish, priggish daughter; Bubble (Jane Horrocks), Eddy's addlepated assistant; and of course, Mrs. Monsoon (June Whitfield), Eddy's cutting and cunning mum.
Show creator and star Jennifer Saunders said in a statement: "We are thrilled to be able to celebrate our 20th birthday with all of the original cast. We hope that, like a good bottle of champagne we have grown better with age but lost none of our sparkle. Viewers in the US have been very kind to the show over the years and we are very happy to return on not one but two U.S. channels at once, BBC AMERICA and Logo. We fully intend to party like it's 1991. When we started filming in West London, it was like time had stood still. It was raining. Nevertheless we are so happy to be working for an audience that has grown just a tiny bit older, like us, but is still willing to let us fall over on TV in the name of PR."
No word on when the specials will air, but they will be broadcast on both BBC America and Logo. Both networks are co-producers of the specials.
Are you icing the champagne for the upcoming Absolutely Fabulous specials?
Read More
Filed Under: