The Inbetweeners Movie broke the record for the biggest opening weekend of any British-made comedy – and the edgy TV spin-off seemed to be a hit with the Duke and Duchess of Cambridge as well.
Kate and Wills were spotted last week at their local movie theater in Anglesey, where they were apparently let in through the back door.
"At one point I was cringing so much I had to look away, then saw Wills and Kate," one moviegoer at the theater reportedly told The Sun. "You'd never have expected them there. But they were loving it, and were in hysterics through the whole film. Their regal position obviously hasn't affected their down-to-earth sense of humor."
The royal couple brought an entourage of ten people to the movie, the Metro reported.
In other royal related news:
• On a more serious note, the Duchess of Cambridge has apparently been personally moved by the recent urban rioting in Britain. The Telegraph is reporting that Kate is looking to become the patron of a charity working with young people to help prevent social upheaval in the future. A spokesman for St. James's Palace said: "Since returning from Canada and California, the Duchess has been using the time to research her options for where she can most make a difference for causes close to her heart."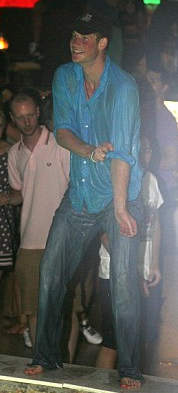 • On a less serious note, Prince Harry was apparently up to his old partying this past weekend. But don't worry, he didn't land in hot water – it was probably temperate. While dancing away at an open-air nightclub on the Dalmatian island of Hvar, Harry jumped into a swimming pool, fully clothed. Laughing, he pulled himself out of the pool and kept on dancing, "as fellow clubbers roared their approval," wrote The Daily Mail. The Prince flew to Croatia with a group of friends on Saturday on an EasyJet flight, taking the same budget airline he used to fly home from his cousin Zara Phillips' Edinburgh wedding.
• The cable docudrama William & Catherine: A Royal Romance, aired Saturday night on Hallmark, and reviews were, to put it kindly, mixed. New York's Daily News said Kate was "winningly played" by Alice St. Clair and that she and Dan Amboyer, who played Will, "make the attraction credible." Queen Elizabeth (Jane Alexander) "turns out to be the kind of gal you could, you know, hang with," the paper writes. "The scene of the queen and Kate playing a video game is a keeper."
The St. Paul-Minneapolis Pioneer Press called the movie "a veritable chocolate sundae for ravenous romantics" and described it as "pretty slick schlock."
On the other hand, the Boston Herald's headline blared: "Truly, madly, dumbly: 'William and Catherine' a royal blunder," and the Chicago Tribune said the movie should have been called "The Blandersons."
When the big name stars, like Jane Alexander, Victor Garber, and Jean Smart, were asked to be in the movie,  "they must have thought they were getting tickets to the actual wedding," wrote the Minneapolis Star-Tribune. "How else do you explain how producers wrangled such a regal cast for such a trivial story?"
Slate had some especially strong words for American actress Smart: "The casting of Jean Smart as Camilla Parker-Bowles tilts William & Catherine into the realm of silliness. She enters the proceedings like a Kim Cattrall version of a Barbara Stanwyck vamp."
• Meanwhile, a major A-list star says she'd be interested in taking on the role of Kate Middleton. Anne Hathaway, who actually played Kate in a Saturday Night Live sketch and has spoken of how much she admires her sense of style, said she'd love to play the Duchess of Cambridge in a movie. "I haven't really thought about it before, but yes, why not," she said last week. "She's great. It's such a fairy tale." Hathaway made her comments at the UK premiere of One Day, a movie for which she had to take on a Yorkshire accent. (via E! Online)
Read More
Filed Under: