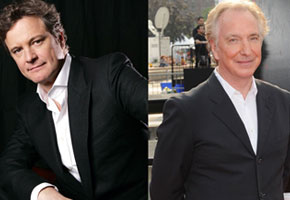 VOTING IS CLOSED… CONGRATS TO THE CHAMPION, ALAN RICKMAN
After four weeks, hundreds of thousands of votes, and 32 competitors, we've reached the moment we've all been waiting for. Two members of British acting royalty will fight for supremacy, but only one can be crowned the Anglo Fan Favorite of 2011.
In one corner, we have Alan Rickman. As Die Hard's roguish Hans Gruber, he claimed ownership of the Accent of Evil, a prize he's held for a quarter-century. He menaced a whole new generation as Severus Snape in the Harry Potter movies. But who knew the 65-year-old star commanded such a fervent fan following? If you didn't know, consider yourself educated. The Rickmaniacs are not to be played with.
On the other side, you have Colin Firth, representing a far "nobler" breed of Britishmen. In 1995's Pride & Prejudice, his quiet suffering and sopping wet underclothes got viewers hot and bothered, but his Oscar-approved performance as King George VI in 2010's The King's Speech signaled his arrival as the Fine British Actor of our time. For much of this week, his defeat at the hands of Doctor Who's David Tennant seemed assured, but a late surge lifted him into this week's finals. Can Colin go Firth into the winner's circle?
And mourn not, David Tennant and Benedict Cumberbatch fans. These formidable competitors may have fallen in the semifinals, but in the tradition of the World Cup tournament, we're pitting them in a battle for, well, third place. Hey, as any bronze medalist can tell you, taking a spot on the podium is much better than the alternative.
Again, there's a one vote per day limit. Don't delay, a title is at stake! vote! Voting ends Thursday, September 1st at 11 am ET.
Read More
Filed Under: