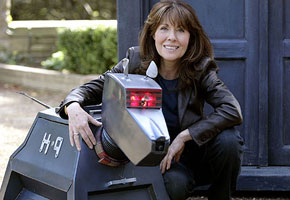 One of the sad things about Elisabeth Sladen's cruelly premature death in April of this year, is that it denied her the chance to tell the full, uninterrupted story of working on the longest running science fiction TV show of all time.
She was one of very few people who had intimate working knowledge of Doctor Who in its '70s pomp, made guest appearances in the '80s, and got to bring her role as Sarah Jane Smith back to glorious life in the Russell T Davies era. If anyone's had tales to tell, it would've been her.
Well, if it's any consolation, you might like to know that Elisabeth had handed in the first draft of her autobiography, shortly before she died.
The book covered her entire life, from the early days in Liverpool, to working in the theatre, and of course her time on Doctor Who, playing Sarah Jane Smith opposite first Jon Pertwee, then Tom Baker and then, after returning to the theatre and jobbing TV work, her eventual return to the show, and The Sarah Jane Adventures.
The good news is, with the help of her husband Brian Miller, and daughter Sadie, the redrafting work that Elisabeth had been too poorly to complete has been done. Aurum Publishing will release her memoirs, on November 7.
Sam Harrison, Elisabeth's editor, told SFX: "I remember my first meeting with Elisabeth – the hilarious and eye-opening stories she had to tell and my feeling of elation that she wanted to turn them into a book.
"Having grown up watching her as Sarah Jane Smith it was a personal dream come true. She was a fantastic person to work with – fun but utterly professional – and it's incredibly sad that she's no longer with us. I'm glad she had a chance to share some of her memories in this book.
"I hope it will make a fitting tribute to a great actress and a wonderful woman."
And of course, a marvellous stocking filler.
What do you think the book should be called? Who's Who? Have You Got The Timelord? Tell us here:
Read More
Filed Under: