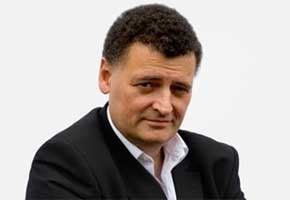 POTENTIAL SPOILER ALERT: Doctor Who scribe Steven Moffat has revealed the reason why he went after tyrannical Nazi leader Adolf Hitler in the forthcoming mid-season premiere, "Let's Kill Hitler." It's totally his way of giving him proper kick in the face, really.
"Hitler is quite an iconic name to be honest – in an evil and ghastly way," Moffat said during a screening in London on Monday (August 15). "I think my younger son said, 'Won't Hitler be offended?' In Indiana Jones, there was a brilliant gag where Indiana Jones accidentally gets Hitler's autograph. I think if you really want to p**s off Hitler, now that he's dead, you don't make him into an icon of evil, you take the mickey out of him, make him a joke, make him be punched by Rory. I can imagine how cross Adolf would be if he watched the episode." (via The List)
• The series 6 return of Doctor Who is just 10 days! Can't wait for the August 27 premiere? Feast your eyes on a little prequel:
• But before you watch "Let's Kill Hitler," BBC America is premiering the second of its Doctor Who "Best of" specials featuring celebrities and everyday fans geeking out over all things Timelord. This Saturday (August 20) it's Doctor Who: Best of the Monsters. Buzzfeed has snagged an exclusive outtake from the specials, and it's super-cute. Celeb Whovians Amanda Palmer and Reggie Watts sing a little ditty about how much they love Doctor Who.
Where might you have heard the song before? It's "Say Hello," an original tune from Allegra Rosenberg, a 15-year-old singer-songwriter/major Whovian who has popped up on this blog from time to time. We interviewed her a little while ago – check it out.
• And if that isn't enough, The Guardian has already seen "Let's Kill Hitler" at a special screening. Would you like to know what they said? Would you like to know who's back? Or what River Song does next? Well they're not telling, so there are no spoilers. Which is good, but also bad. Oh just read the thing, will you?
• A slightly (but only slightly) more fulsome report comes courtesy of SFX.
• And there's one on Den of Geek too. All spoiler-free, they claim. Try not to over-tantalize yourself, though, mmk? It's got to be bad for you.
• A good antidote to all of this hysteria is to have a good laugh. So why not settle down with one of these Doctor Who parodies, as collected into one handy blog post by SFX? This is our current fave, written by Victoria Wood, and starring the mighty Jim Broadbent, who really should have been cast as the Doctor by now…
"Who is it, Doctor? I'm not very bright and I don't have my glasses on."
• Don't forget to check out Anglophenia's hot hot hot Fan Favorites Poll! The Tenth Doctor, David Tennant, has made it to the quarterfinals!
• OMG. Our minds are officially blown. A TARDIS corset. Yes, you read that correctly. Thanks to Nerdist for alerting us.
• The latest in the Doctor Who Companions series: the lovely Grace Holloway (Daphne Ashbrook) and dear Rose Tyler (Billie Piper).
• Wanna see Matt Smith decked in vintage swimwear and specs? Check out The Daily Mail's snaps of the Eleventh Doctor on the set of Bert & Dickie. As previously reported, the forthcoming BBC drama will see Smith in the role of rower Bert Bushnell, who picked up the gold medal during the 1948 London Summer Games.
• If you have bored kids in the house, or you're a bored kid in a house yourself, why not train yourself to walk like a Doctor Who scarecrow? Who knows when it could come in handy. (via The Guardian)
• So, apparently the police force in Cardiff are a bit nervous that they won't be able to handle the droves of Whovians who are slated to turn out for the Doctor Who experience next year. They are actually anticipating 250,000 estimated visitors in just one year, and that an extra officer is absolutely essential. Um, how about a couple more? (BBC News)
Read More
Filed Under: