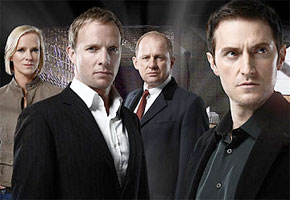 The BBC espionage drama Spooks is set to finish after one more series, according to its own producers.
The show, which has been running for 10 years and has made a name for itself by allowing some of its most popular characters to be killed, often in astonishingly brutal ways, has proven to be a huge hit. Now, instead of blowing up one more British lead actor  –  they killed off Lisa Faulkner in the first episode of season 1, using a deep-fat fryer – they've elected to detonate the whole show.
Jane Featherstone, chief executive of Kudos, told The Sun that the decision to stop was made by the production team, not the BBC:" People still love the show and we could have carried on for a few more series but we wanted to go out on a high.
"Now feels like the right time. We have always killed off characters at their peak and now we're doing it with the show."
And of course, it wouldn't be Spooks if things didn't go horrifically wrong along the way. The tenth series will focus on the relationship between department boss Harry Pearce (played by Peter Firth) and fellow agent Ruth Evershed (Nicola Walker).
Jane explains: "Harry Pearce has always been at the heart of the show and this series focuses on Harry's past, bringing his tumultuous relationship with Ruth to a head. As we near the completion of this year's show, it feels this series is a fitting end to a much-loved programme.
"It's very tempting to keep going and we have had ongoing conversations with the BBC about it. But the heart of the show has become those two characters and I feel they own it.
"We've followed the arc of their personal story and I think they have brought us to a natural end, which you will all see played out later this year. It feels like now is the time for Spooks to bow out and make way for new spy dramas which reflect the changing world around us."
She added: "There will be a brilliant ending with some remarkable people and surprises. Some blasts from the past might return. The ending will give the show a full stop."
Blast being the operative word.
Read More
Filed Under: