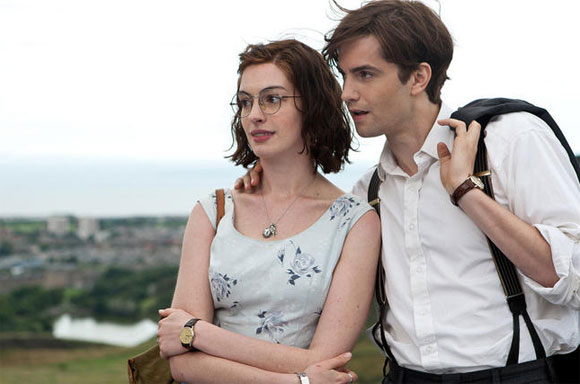 Anne Hathaway has had the challenging task of doing a Yorkshire accent in the new British romantic drama One Day out next week (August 19) — and not everyone is happy with the results.
London's Daily Mail has reported that some fans of the book, on which the film is based, have been complaining. One wrote on a website that her accent was "totally inconsistent."
But Anne Hathaway, who certainly has a good track record as an actress, told me she gave herself a lot of time to work on the accent, because she really wanted to get it right.
She also said: "This book has so many fans that I felt like when I was preparing the accent that I had a dam of criticism just waiting to come down on me at the slightest misstep, so once I got comfortable with that then you just let go — and let it happen. But it was a big challenge."
The film chronicles the bond between young Brits Emma and Dexter, and it revisits their relationship on the same day over a period of twenty years.
They're close friends, and the story hangs on whether or not their relationship will develop into a full-blown romance. Jim Sturgess portrays Dexter. Hathaway plays Emma, and in the novel, at least initially, she is less than alluring. Her hair is badly cut, and she wears owl-rimmed glasses. Hathaway has been criticized for being too pretty for the part — just too glamorous.
The actress says: "It cracks me up that people say that. Looking glamorous takes time. Looking frumpy and quite average comes very naturally to me. It takes this team of highly skilled technicians to make me look in any way decent, so that did amuse me."
But she goes on to point out that "one of the important things to remember about Emma is throughout the book she's described by everyone but herself as extremely beautiful. I think the important thing is that Emma really has no self-confidence and doesn't see herself that way."
Perhaps fans are just being too picky about the rightness of her accent and her looks. Shouldn't the proper question be: "Does she do a good job overall as an actress?"
Well that's something that critics will have to judge. I expect, when it comes to the accent, British film reviewers may hold her to a higher standard than their American counterparts, whose ears are probably less attuned to the niceties of the way in which people in Yorkshire speak.
Read More
Filed Under: