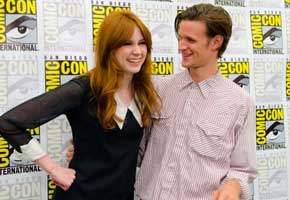 While they already spend a ton of time inside the TARDIS, Matt Smith and Karen Gillan apparently hope to one day hit the stage together. Specifically, they want to take on the Shakespeare classic, Macbeth.
According to Scotland's Daily Record, the Doctor Who stars quite fancy the title roles.
"I want to be Lady Macbeth, it's a role I have always wanted to play." Gillan confessed.
Smith added: "And I want to be Macbeth, so let's do that. I'd quite like to do a play."
Would someone sign these folks up already! Whovians went absolutely cuckoo when David Tennant and Catherine Tate teamed up for Much Ado About Nothing.
• Speaking of our current Time Lord, Smith recently told SFX that The Doctor is a bit "selfish" when it comes to interacting with others. Oh we get it, but we still love you!
• On the flipside, Gillan goes on to hail Amy Pond and The Doctor's relationship for being "the heart" of the show. We can't say we disagree. (Metro))
• Entertainment Weekly has exclusively revealed the new Doctor Who poster for the upcoming fall season!
• Starting this Saturday (August 13), BBC America's first of three original Doctor Who specials will air at 9 pm ET. Remember, this extra, entertaining stuff is a lead up to the August 27 return of the show. So yeah, tune-in watch celeb Who fans like Chris Hardwick, Scott Adsit (30 Rock), comedian Eugene Mirman, among others, chime in on "The Impossible Astronaut." Here's a sneak peek:
• Do you ever get a bit lost in the history of Doctor Who? Ever wonder what people are on about when they mention the Rani, or the Third Doctor's work with UNIT? Well help is at hand, in the shape of this handy (and rather lovely) infographic by Bob Canada. All the basics are covered, and you get to see what the eleven Doctors would look like if they were ever rendered into cartoon form.
• Steven Moffat has told SFX that he's already got a well-known story in mind for this year's Doctor Who Christmas special, and no, it won't be Rudolph the Red-Nosed Reindeer: "It will be as Christmassy as Hell. I might be cleverly redeploying a known Christmas story again, sort of… but probably not the one you think! It will be massively Christmassy and moving and sentimental and sweet. It'll be set partly on Earth, but not completely. And it might have a period setting…"
• He's also thinking hard about what to do to celebrate the show's 50th anniversary, in 2013, as he told Digital Spy: "I've got various plans, but all I can say emphatically is it will be huge. There's lot of decisions we're making that are about making all that possible. It'll be amazing. It won't be just one thing, we'll be doing lots of stuff.
"The plans are quite extensive, and changing all the time. Oh my God, we will hit that year very, very hard indeed."
• And while we're looking ahead, would you like to see a new UK trailer the BBC have made for the second half of Season 6? I know, silly question:
http://www.youtube.com/watch?v=X-1jkd92-hY&feature=player_embedded
• If you were a fan of the Doctor Who TV movie, which featured Paul McGann as the Eighth Doctor, you may wish to read A Companion to the Doctor's Companions: Dr. Grace Holloway, if only to find out more about the first TARDIS passenger to properly kiss the Doctor.
• Over at Den of Geek, it's the turn of Colin Baker, the Sixth Doctor, to receive their celebratory reappraisal: "If a great Doctor can make a bad episode into something worth watching, then Colin Baker is definitely a great Doctor."
• Hey Whovians, head over to the Doctor Who Facebook page because it's Ninth Doctor week! Yes, they're celebrating the brilliance that is Christopher Eccleston with photos and other goodies, plus you can purchase the Eccleston episode, "The End of the World" via Facebook Video-On-Demand.
• Tiny Doctor Who toys are so cool, aren't they? Well, Underground Toys has a new pint-sized lot featuring all 11 doctors for $39.99 (£24.52). You know you want 'em.
• We imagine this little nugget of info might please many dedicated Doctor Who fans: Australia's Newcastle Herald reports that episodes 4 and 5 from "The Reign of Terror," featuring First Doctor William Hartnell, are being reworked through animation. The two shows, which were part of a six-part series, were originally "lost in the BBC's stock clearance of the 1970s." Now, Austen Atkinson, the director of production company Theta-Sigma, is using "original sound recordings, photos and scripts" to regenerate these prized episodes. Plus, the collection will eventually be reissued via DVD in the UK and Australia. Squee!
Read More
Filed Under: