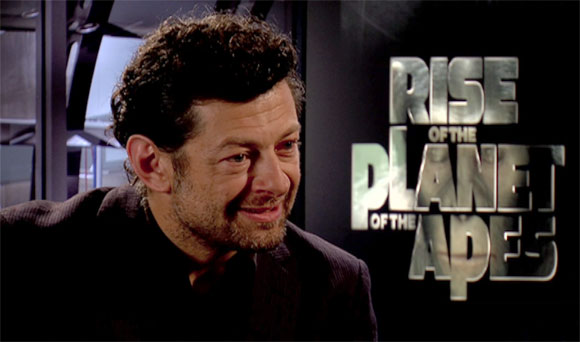 British actor Andy Serkis — who's reprising the role of Gollum in the forthcoming Hobbit movies — is definitely enjoying his extra behind-the-camera responsibilities given to him by director Peter Jackson.
Serkis told me: "I'm having a ball. Peter asked me to be Second Unit Director, and it's been going great. I've had a really, really good time." But he added: "It's a huge challenge."
The actor wouldn't reveal too much about the way Gollum is presented in The Hobbit. "Put it this way: in Lord of the Rings he's 600 years old," he said. "In The Hobbit, he's 540 years old. Spot the difference."
Serkis is currently receiving accolades for a quite different endeavor — portraying the leading primate in the just released Rise of The Planet of The Apes.
Ever since Gollum the actor has become the "go-to" guy for roles using performance capture technology which enables the moves and gestures of an actor to be seamlessly blended with the computer generated images of a creature.
In Rise of The Planet of the Apes, Serkis gives the picture's leading primate a remarkably lifelike disposition. Although there's wizardry involved, he maintains he approached the part just as he would any acting challenge: "For me performance capture technology is all about recording an actor's performance it's a tool. It's about being able to connect emotionally, physically with a role and playing it for real. So I've never considered playing a live action role any different to playing a performance captured role."
Critics have heaped praise on Serkis's performance in Rise of the Planet of the Apes: one even suggested he should get an Oscar nomination for his work in the film.
Read More
Filed Under: