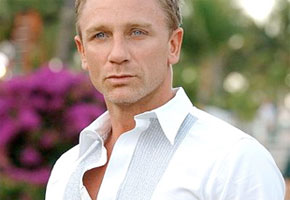 Anglophenia film critic Leah Rozen got it right… our gaze remains totally fixed on Daniel Craig.
We absolutely love him as James Bond. He's also dazzled us in Munich, Defiance, and in this summer's Cowboys & Aliens. And judging by the edgy trailer for The Girl With the Dragon Tattoo, opening this Christmas, he'll wow us once more.
The fact that Craig has the drama/thriller thing down pat is a good, good thing because we're never going to see the 43-year-old English actor, on film at least, pour his heart out on poster board as Andrew Lincoln's Mark did to Keira Knightley's Juliet in Love Actually. Doing a romantic comedy is just NOT in the cards, Digital Spy (via Bang Showbiz) reports.
"I'm not about to do a rom-com," Craig says. "It would be a disaster."
He continued: "Good movies aren't just funny. Good movies aren't just sad. Good movies aren't just serious. They're all of those f**king things. In good movies, you should be involved in the characters. Not getting deep about it but I think that's more interesting."
Well ok, then! I suppose his sexy moves in the last two Bond films will do. Heh.
Read More
Filed Under: