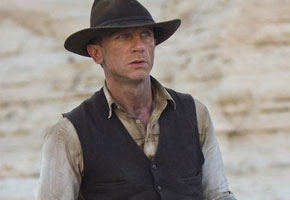 Daniel Craig is not the sort of guy one fails to notice. Yet, the first time that I noticed Craig, he had already been acting on screen and in TV roles for a decade, though mostly in England.  I discovered him in Road to Perdition, director Sam Mendes' 2002 drama about 1930s American gangsters. Craig played a mobster, the sadistic son of Paul Newman's crime boss. Despite stars Tom Hanks and Newman, whenever Craig was in a scene, I couldn't take my eyes off of him. He was menacing and slightly out of control and totally mesmerizing.
I remember that I made a point of looking up his name afterward in the credits. (At the time, I was the movie critic at People magazine.) Who is this guy, I wanted to know, and how can I see more of him? (Somehow, I had failed to take proper note of him a year earlier when he battled special effects and Angelina Jolie for attention in Lara Croft: Tomb Raider, his first, big budget Hollywood effort.)
In Perdition, it was clear that Craig was the real deal, a heck of an actor and a genuine movie star. And so he remains today. He's a big reason, along with the terrific title and Harrison Ford, that millions will line up this weekend to see his latest film, Cowboys & Aliens.
In it, the 43-year-old star plays an outlaw in the Old West who joins forces with a cattle baron (Ford) when invaders from outer space arrive in a dusty, small town. The movie delivers on the promise of its genre mash-up title – there are indeed cowboys battling with aliens – but C&A is never as much fun or as inventive as you keep hoping it will be. That said, Craig is a forceful presence throughout the film, offering an appealing performance (including doffing his shirt several times).
Of course, it's the role of James Bond that made – and keeps – Craig an international star. He succeeded Irish-born Pierce Brosnan as 007 in 2006 in Casino Royale, a robust reboot of the franchise that explored Bond's early years and served as an excuse to put Craig into a tight-fitting swimsuit.
He brought a brawniness to his Bond, the like of which hadn't been seen since Sean Connery vigorously shook his martinis rather than stirring them. While Craig certainly appeared debonair enough in a tux, in both Casino and its 2008 follow-up, Quantum of Solace, he exuded an underlying tension and menace that brought a special charge to his Bond. (His third effort as 007 is currently in pre-production.)
Craig has been smart about branching out beyond Bond, though a couple of his higher profile choices (The Golden Compass and Defiance) have failed to find much of an audience. In his next film, Dream House, a psychological thriller that opens Sept. 30, he plays a man who discovers that the house into which he and his family have moved was previously the site of a grisly murder. (Rachel Weisz, Craig's new real-life wife, plays his spouse in the movie.)
My favorite performances by Craig came in a trio of his earlier films – 2003's The Mother, 2004's Layer Cake and 2006's Infamous – which serve to showcase his range.
In the romantic drama Mother, he plays a contractor who begins an affair with a widow (Anne Reid), twice his age, while he's dating her daughter. In Layer Cake, the debut film by British director Matthew Vaughn (X-Men: First Class), Craig plays a London cocaine dealer who's hoping to retire. And in Infamous, he portrays real life murderer Perry Smith, who was befriended by Truman Capote (brilliantly portrayed by British actor Toby Jones) while the author was researching his bestselling non-fiction book, In Cold Blood.
Craig with Michael Gambon in a scene from Layer Cake (warning: profanity):
http://www.youtube.com/watch?v=QcN3Kd-gyR0
Actually, my all-time favorite Daniel Craig performance is one in which he spoofs himself, to hilarious effect, in a faux reality show. It's a short, shot as a fundraiser for BBC's 2006 Red Nose Day charity effort, and purports to tell the story of his romance with comic actress Catherine Tate.
—————————————
What's your favorite Daniel Craig film?
—————————————
Read More
Filed Under: