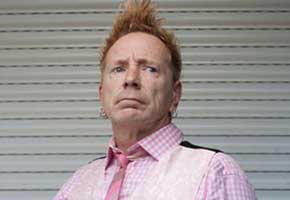 It seems a little churlish, when you have a roomful of the great and good from the history of rock music, to point out that the reason they have all assembled is to receive a form of tribute which has transparently been created just in order to get them there in the first place. Surely the fact that they are there at all is good enough?
Well kinda. Yesterday was MOJO magazine's annual awards bash, the Honours List, which has always been considered a worthy do by hardened old rockers and celeb-phobics, such as Jimmy Page, Slash, and even John Lydon.
Now, I do like MOJO magazine, me. They're spectacularly good at telling some of the lost stories of rock, getting the best out of the protagonists, and generally providing valuable historical footnotes to some of the best music in all of our lives. They're not overly swayed by the giddy swells of fashion, preferring to paint themselves as a publication of very proper integrity.
The strange thing is, looking over the award categories; it starts to become clear that they have literally just made most of them up in order to make sure certain people come. Rock stars being notorious attention-hogs, it's a mutually beneficial arrangement. But does it make sense to anyone outside of that arrangement?
I've always had my doubts about the Rock 'n' Roll Hall Of Fame in this regard, not least because it's an institution which only exists to put an unsolicited stamp of approval on things which the public already approves of. Is that a very rock 'n' roll thing to do? It is not. Especially when rock contains characters like Little Richard, who are more than capable of making up their own titles, thank you very much.
But the Hall of Fame is at least relatively honest that this is what it is doing. Let's look at the MOJO categories for a second:
Breakthrough Act – Rumer
Song Of The Year – "Heathen Child," Grinderman
Outstanding Contribution – Public Image Ltd
Classic Album Award – "Screamadelica," Primal Scream
Merit Award – Martha And The Vandellas
Best Album – "Suck It And See," Arctic Monkeys
Inspiration Award – Gary Numan
Best Live Act – John Grant
Best Compilation – "Sweet Inspiration: The Songs Of Dan Penn & Spooner Oldham"
Les Paul Award – Steve Cropper
The MOJO Medal – Bob Harris
Classic Songwriter – Squeeze
Vision Award – Upside Down: The Creation Records Story
Catalogue Release – "Coals To Newcastle," Orange Juice
The MOJO Maverick – Donovan
The MOJO Hero – Eddie Floyd
The MOJO Icon – Ringo Starr
The MOJO Hall Of Fame – Brian Wilson
With categories such as Maverick, Hero, Icon, Outstanding Contribution, Inspiration, the MOJO Medal, the Hall of Fame, aren't they basically offering the same award out to different people? Do you imagine Ringo Starr cares if he got Icon instead of Hero? Do you care? I don't.
Now no one is suggesting that awards ceremonies are anything other than a silly bit of fun, an excuse for a knees-up. But they do have to at least suggest that there is some kind of balance being weighed up, or it's just toadying up to some brilliant people for business reasons. It's the awards equivalent of having your picture taken next to someone famous, just because they are famous, while pointing at your own face, and then claiming you are friends.
In contrast, a band like Orange Juice, who genuinely do deserve a bit of recognition and support, are being given something that rewards the value of their recently re-released back catalogue. That's the right way to do it.
So, while it's fascinating seeing pictures of all of these people in a room together at the same time, the impression left is of the kind of end-of-career tribute you'd get if you were retiring, peppered with a few contemporary awards for the (relative) youngsters.
And you have to assume that the artists are happy to go along with this, provided the magazine keeps supporting their work and propping up back catalogue sales.
But one thing is for certain, when Brian Wilson looks back over his life and wonders if it was all worthwhile, he won't be turning to his MOJO Hall of Fame trophy for comfort.
Read More
Filed Under: