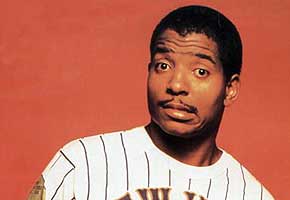 Back in 1989, Young MC's infectious "stone cold rhymin'" had everyone up and ready to "Bust a Move." And really, the pop/rap masses have never been the same since. That chorus is pretty much inescapable, right?
The Grammy-winning tune has been featured in a string of box office hits (The Blind Side, 17 Again, Can't Hardly Wait) over the years, plus the USC-educated rapper even busted it out in 2009's Up in the Air. And, of course, "Bust a Move" has rocked numerous television shows like One Tree Hill and My Name Is Earl. Oh and those Glee kids did their own funky interpretation during its first season.
Anyway, I suppose this is where we tell you that Young MC is a stone cold Brit. Yep, he was born Marvin Young in South Wimbledon, London, England in 1967. But at age eight, Young MC and his family ventured to the States to settle in Queens, New York.
We'll be outing more "Secretly British" celebs in the coming days. Tweet us @anglophenia your favorite undercover Brits using the #SecretlyBritish hashtag.
Read More
Filed Under: