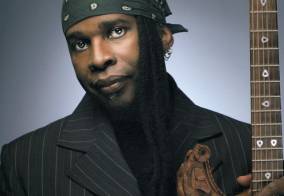 See that look? That's the look of a man who knows his porridge is being burned, and his tea is already stone cold. Vernon Reid, the twiddle-fingered guitarist in Living Color, was born in London, and grew up in Brooklyn. This means he can order a pastrami-on-rye-with-dill-pickle-hold-the-mayo-extra-chili-sauce with the best of them, but he always tips his hat and wishes the delicatessen server a good day afterwards.
And it also means that when we compile the pantheon (and no matter how grand a term that may seem, it IS a pantheon) of British rock guitar greats, we can file Vernon somewhere after Gary Moore (Belfast, you see, it still counts) and the Def Leppard mob, and somewhere before the Britpop guitarists and the Darkness as one of our finer exports.
Granted, we exported him very early, and he matured in America, so, y'know, thanks for that. His will have been the only thatched cottage in Brooklyn, mind.
Here he is giving his trusty 'axe' the full scorch, back in what he would call "the days":
Just don't ask him if he enjoys football, the true transatlantic hybrid simply forgets the meaning of the word, for safety's sake.
We'll be outing more "Secretly British" celebs in the coming days. Tweet us @anglophenia your favorite undercover Brits using the #SecretlyBritish hashtag.
Read More
Filed Under: