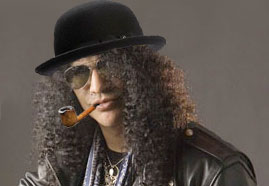 So, we know that Mr Saul Hudson, the artist formally known as Slash, is British. He was born in London's leafy Hampstead in 1965, raised in Stoke-On-Trent until 1970, and then moved to LA. But what does this actually mean in terms of his everyday behaviour? Does he have a fondness for kippers? Do his snakes have a butler?
Well maybe the answer is to be found in his secret diary, which Anglophenia has discovered down the back of a discarded sofa, in a skip, while out hunting for, er, Narnia.
Extract From The Secret Diary of Lord Slash
June 13th 2009
"Oh this simply will not do! My carriage arrived this morning, in which I had intended to ride to the recording studio and lay down some 'hot riffs'. It was transparently clear, however, that the valet service had been cutting corners left, right and centre. I found crumbs on the back seat. Crumbs! One would have thought an artist such as myself would not have to endure such ignominy, but it seems not. Were it not for my plentiful kerchief collection, I should have ordered a replacement forthwith, tardiness bedamned."
June 14th 2009
"Today is a day for simple pleasures. A promenade around the grounds, a chilled glass of Jack raised to one's lips, with the pinkie pointing ever outwards, and the effervescent delights of some rockular music played at a volume that causes the dust to cascade from the belfry in delicious spirals. Capital!"
June 15th 2009
"Lord Duff of McKagen and I have formed a shooting party. We've sent the beaters out into the woods that border our respective estates, with strict instructions to loft any thing they find towards the very heavens. Our mission is to shoot them down using our finest velvet revolvers. Sadly, all they have managed to unearth thus far are the vulgar gold discs I instructed the groundskeepers to hide in the spinney. Having said that, they make rather good clay pigeons, so Lord Duff and I are hiking up the old plus-fours, setting my topper to a rakish angle and heading out, forthwith."
June 16th 2009
"Another legal missive from that boorish Rose fellow. This time he is insisting I refrain from ever mentioning his name in public again. I sent one back saying I would be only too happy to oblige, should the unctuous buffoons of the press ever cease prattling on about him. Have resolved to stick to simply replying, in their argot "well, Axl's this really complex, creative dude, with, like, a lot of angry energy" in future."
Extract Ends.
We'll be outing more "Secretly British" celebs in the coming days. Tweet us @anglophenia your favorite undercover Brits using the #SecretlyBritish hashtag.
Read More
Filed Under: