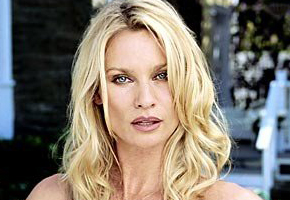 On a list of British actresses — say, Samantha Morton, Anna Friel, and Jane Leeves — Nicollette Sheridan would seem quite out of place, right? After all, Sheridan was one of the leading beauties of American primetime soaps during the Reagan era, becoming a sensation as rich girl runaway Paige Matheson on Knots Landing from 1986 to 1993. But she wasn't your typical soap tart. With her carved jaw and plump lips, she had a look and bearing that shouted "Paris runway" more than "Sherman Oaks cheerleading squad." (Sheridan's rival, Dynasty star Heather Locklear, was more stereotypically Valley: brash but deeply wholesome.)
Most viewers who watched Sheridan on Knots or, more recently, as the MILFy Edie Britt on Desperate Housewives, likely didn't realize she was a true Englishwoman. She was born in Sussex the day before the Kennedy assassination to actress Sally Adams, moving to the U.S. when she was 10 and "consciously dropping" her British accent to avoid teasing from her peers. And she's been avoiding detection ever since.
Here's Sheridan with fellow "Secret Brit" Slash on an episode of The Ellen DeGeneres Show. Not a hint of her Sussex roots showing:
We'll be outing more "Secretly British" celebs in the coming days. Tweet us @anglophenia your favorite undercover Brits using the #SecretlyBritish hashtag.
Read More
Filed Under: