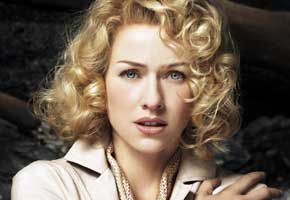 When thinking of Naomi Watts, some of her biggest film roles obviously come to mind: Mulholland Drive, The Ring, and King Kong. Her incredible performance in 2003's 21 Grams, which earned her BAFTA and Oscar nominations for Best Actress in a Leading Role, is a particular favorite.
And we also remember that she and Nicole Kidman have been loyal BFFs since their teens, as the two met during a commercial audition down under. But Watts isn't a true Aussie; she's actually a red-blooded Brit.
The mother-of-two was born in Shoreham, Kent, England in 1968. After the sudden death of her father, Pink Floyd road manager Peter Watts, she and her older brother, Ben, went on to split time between their grandparents' farm in Anglesey, North Wales and England with their Welsh-born mother, Myfanwy. Her mom eventually remarried and relocated her family to the land of Oz when Watts was 14.
In a 2007 interview, Watts upset some of her Australian fanbase after stating that she still thinks of herself as British. "I loved my childhood growing up in Kent," she said. "I was always climbing trees, a real tomboy."
She continued: "I never wanted to leave. I spent the first 14 years of my life in England – we moved around a lot and I ended up going to different schools, all of which I enjoyed. Even when I was in Australia I went back to England a lot. I still have my British passport. I consider myself British and have very happy memories of the UK."
Watts' slight Aussie accent can be heard in the 2008 New York Times profile piece below:
We'll be outing more "Secretly British" celebs in the coming days. Tweet us @anglophenia your favorite undercover Brits using the #SecretlyBritish hashtag.
Read More
Filed Under: