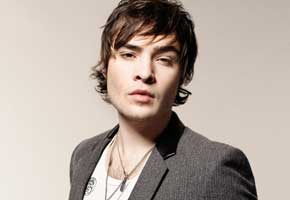 For the last four years, Ed Westwick has tempted U.S. television audiences as steely playboy Chuck Bass on Gossip Girl. His accent and his smooth American-tinged persona is so dead on that we sometimes forget he's a native Londoner.
Born in 1987, a young Westwick honed his acting craft with the National Youth Theatre. From there, he earned TV spots on such popular British dramas like Doctors, Casualty, and Afterlife, while eventually working his way on to the silver screen in Alfonso Cuarón's Children of Men and Anthony Minghella's Breaking and Entering. And since taking on the antagonistic Bass, he's continued balancing his film time, starring in the 2009 Donnie Darko sequel, S. Darko: A Donnie Darko Tale, Son of Rambow, and the horror-tastic 100 Feet. This December, we'll see him portray Agent Smith, the biographer to former FBI Director J. Edgar Hoover, in the Clint Eastwood-directed biopic, J. Edgar.
And when he's not entertaining us playing other people, Westwick dabbles in music. He used to front the freewheeling indie rock outfit The Filthy Youth for a number of years.
Side note: There's a Facebook fan page dedicated to the 24-year-old's sexy British burr.
Below, Westwick gives some comical advice on how to be American. Heh.
Read More
Filed Under: