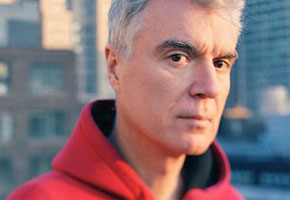 Actually, if we're being technical, the former Talking Heads lead singer and all-round rock boffin is also (very slightly) Secretly Canadian, seeing as he lived in Hamilton, Ontario for seven years as a child.
David was born in Dumbarton, Scotland in 1952. His family moved to Hamilton when he was two years old, and then to Maryland when he was around nine. He then attended the Rhode Island School of Design, where he met Chris Frantz. The pair moved to New York to start a band, recruited Chris's girlfriend Tina Weymouth, and the rest is artrock history.
Incidentally, this may mean that the Talking Heads song "Found A Job", the lyric to which began in a family row in the Byrne household over rubbish TV shows, should really be sung in a Scottish accent.
http://www.youtube.com/watch?v=Bzub9ZF-WoQ
We'll be outing more "Secretly British" celebs in the coming days. Tweet us @anglophenia your favorite undercover Brits using the #SecretlyBritish hashtag.
Read More
Filed Under: