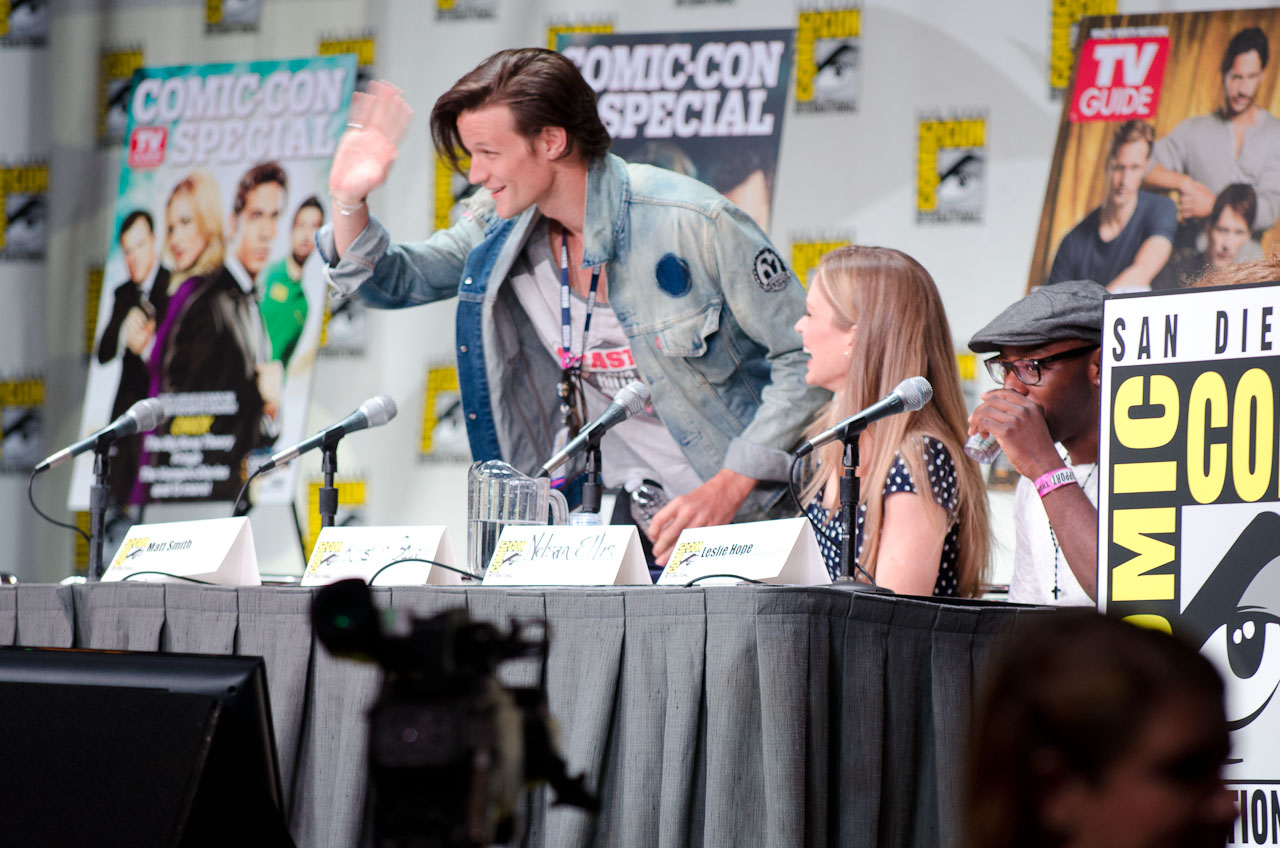 "The few, the proud, the nerds," Zachary Levi quipped when celebrating the fanbase of his series, Chuck, which will begin its final season this fall. It was a rallying cry that resonated in Ballroom 20, which housed TV Guide's Fan Favorites panel at San Diego Comic-Con.
Moderated by TV Guide editor-in-chief Debra Birnbaum, this panel amassed a ragtag group of stars — including former Lost star Jorge Garcia, True Blood's Kristin Bauer and Nelsan Ellis, The Big Bang Theory's Johnny Galecki, and yes, Doctor Who's Matt Smith — who have one thing in common: they have followings that presidential candidates would sell their first-borns for.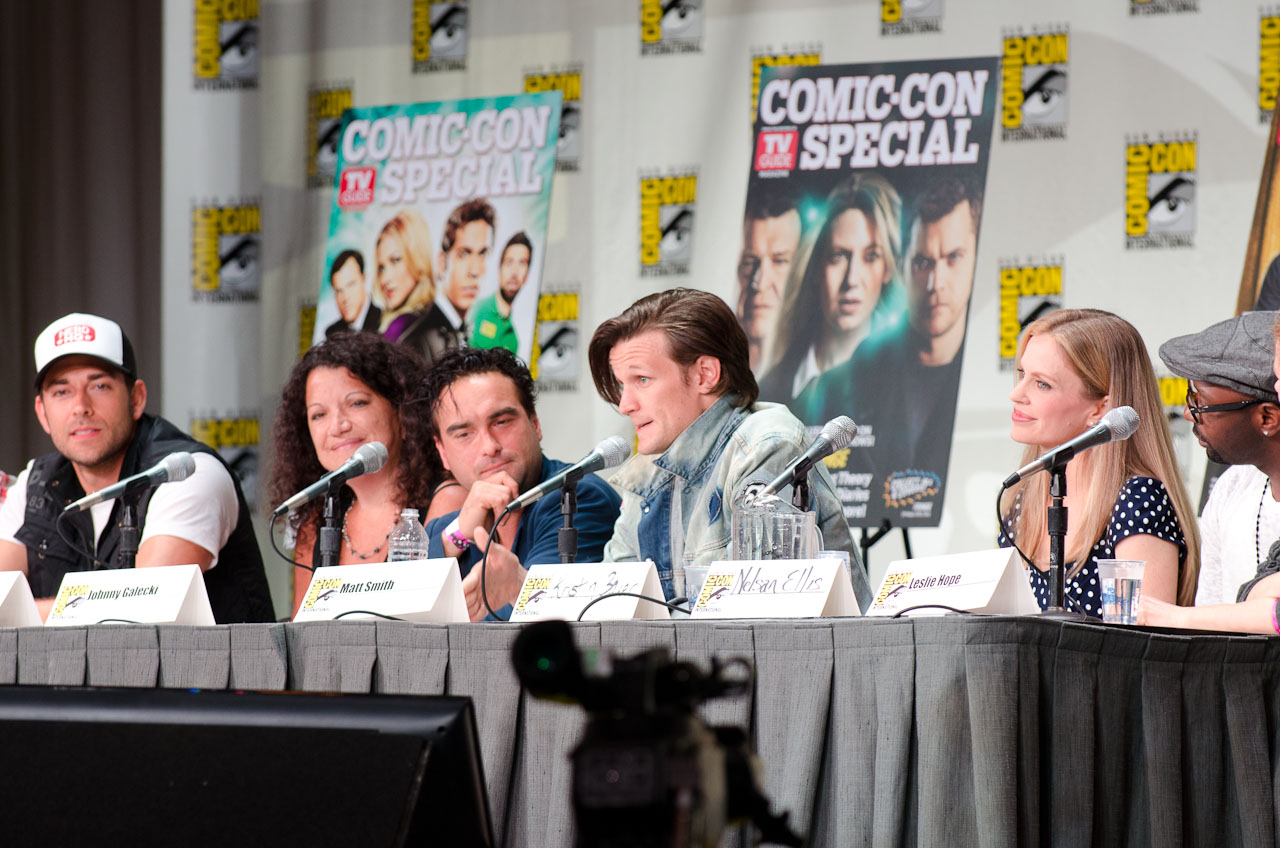 Their fans are anything but casual: they are fully engaged, vigilant, and catalog the smallest details. If they notice the tiniest lapse in logic or continuity on a series, you've won wrath that is nearly impossible to overcome. But earn their respect, and you've reaped devotion that can help power a career for years. And San Diego Comic-Con offers a chance for super-fans to press the flesh with their idols.
"One of the best places in the world to be this time of year is right here in San Diego with you," Levi said.
"When I came to Comic-Con 15 years ago, it was 10 guys with tinfoil hats," says Leslie Hope, star of ABC's upcoming drama The River.  "But, this year, I came  with my sons and it is one of the coolest things I've ever done."
Matt Smith, who is in his second highly-regarded season on BBC America's Doctor Who, is experiencing his first Comic-Con. As the eleventh man to star on the long-running series, he had a challenge of stepping into some well-worn shoes. "For me, it's quite remarkable to jump into something that already has a legacy. It started with William Hartnell, Patrick Troughton… Tom Baker." But after doing fan events both stateside and in his native Britain, "I now realize it's quite popular," he laughed.
In spite of getting the most rousing applause of anyone on stage, Smith admitted to being starstruck by his own co-panelists. "I get to sit next to Pam and Lafayette," referring to the True Blood character names of stars Kristin Bauer and Nelsan Ellis. He says he's a "huge fan" of the vampire drama.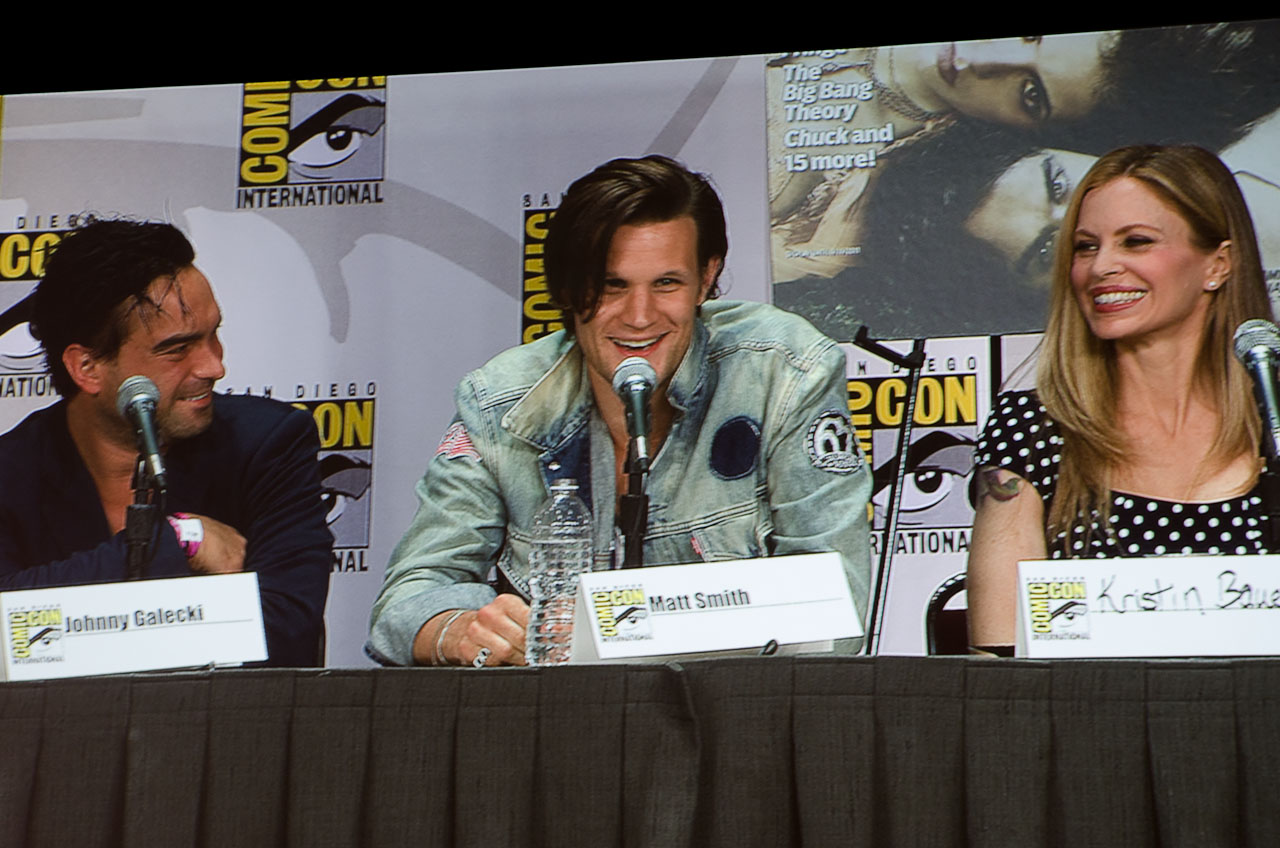 Smith remarked on the irreverence of the crowds here: "I saw a man dressed as the Predator who looked like he could take my head off. So there's a good spirit here."
In the Q&A portion of the panel, Smith received the lion's share of questions, including one about a possible return of one of the Doctor's best companions, Captain Jack Harkness. "John [Barrowman] is welcome to come back and strut his stuff."
Speaking of Barrowman, he will be on the Torchwood panel tomorrow morning (July 22), so stay tuned for my recap on that…
Read More
Filed Under: