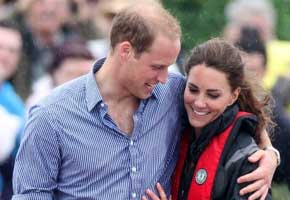 After a momentous time in Ottawa, which saw The Duke and Duchess of Cambridge honoring royal tradition by planting a tree at Rideau Hall on Saturday (July 2), Prince William and the former Kate Middleton continued their first official royal tour of Canada with a whirlwind stop in Quebec over the weekend.
The two tested their French cooking skills in Montreal, and also met with neonatal and cancer patients at Sainte-Justine Hospital, amid some small protests. And when visiting a youth center for the homeless, Maison Dauphine, in Quebec City, The Daily Telegraph reports that William participated in a friendly game of foosball, while his bride was dazzled by one magician's impressive talents. The royal couple later headed to City Hall for Canada's Royal 22nd Regiment ceremony.
And earlier today (July 4), after arriving at Prince Edward Island, BBC News reports that Will and Kate shed their formal attire to compete in a dragon boat race with several local athletes on Dalvay Lake. The Prince, who also joined the Royal Canadian Air Force to steer a Sea King helicopter to a perfect "waterbird" landing, was crowned the winner. "There's no chivalry in sport," a proud William joked.
In other royal-related news:
• Britain's Tatler magazine already honored Kate with their Warhol-esque pop art cover in January, and now they're moving on to Pippa Middleton. People reports that a black and white photo featuring the royal bridesmaid's famous face, surrounded by a mix of bright flowers, will grace its August cover.
• Speaking of Pippa, she and her sister were voted "Britain's Most Beautiful Women Ever" in a new QVC poll. According to The Daily Mirror, the two brunette beauties bested poll regular, English supermodel Kate Moss.
Read More
Filed Under: